Thank the goddess I had a wakeup call placed. I was out like a light. Despite my worries of not being able to get a timely cab — one appeared in 5-10 minutes and we took the long way (but with not much grade) to Pier 69 for the Victoria Clipper to Victoria. MUCH better than having to walk since all the busses were on Emergency Routes only. And yes, even though the snow that started at 4am, the Clipper is running this morning: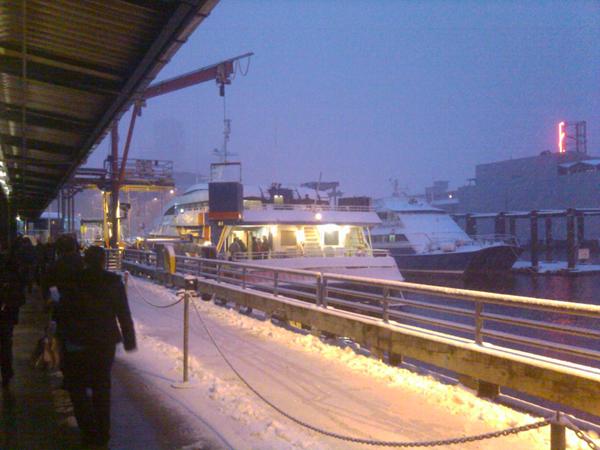 I read for a bit and then just curled up on three seats and went to sleep.
Duty-free was the$16 liter of Jamesons.
I was the second person through customs/immigration. So quick I didn't even have my passport card out yet. By 11am I was at the condo and to my shock and amazement my unit (or should I say Swanda's unit) was ready, not that I really need the handicap unit. The 2-bedroom penthouse looks like this:
Two local faerie boys I met at camp last May are coming to dinner. Salmon in a raspberry black pepper glaze, salad with avocado, tortillas (because the bread at the tiny market around the corner didn't look all that hot) and a couple of bottles of wine. Not bad for not going to the market far away but relying on the fish store, mini-market and wine shop, each within 4-5 blocks of the condo.
I think I'll sleep in tomorrow.
[? ? ?]