Ah, the trip of changes. So, yesterday afternoon got an email from the Victoria Clipper (well, their reservations folks). Seems that the 5pm return trip to Seattle is now 11:15am to miss high winds (and a possible cancelling of a sailing) in the later afternoon.
And a little cut and paste from an email to Chip as it says it all:
And as for the Clipper, we were greeted onboard for our early departure with:
50% off certificate for our next trip
20% off duty free booze — 40oz. bottle of Bacardi light rum $15.00 down to $12.00
20% off duty free cigarettes (actually bought some to keep in the freezer for my smoking friends) $24.80
10% off perfumes/colognes (passed)
$2.50 cocktails and beer (down from $5.50)
Hadn't planned on drinking scotch at 11:30 in the morning… for big glasses of free-poured Glen Fiddich for $2.50, how can you refuse.
And in other news Swanda continues to improve and is talking on the phone now.
Today's humorous photo. Air Can Sex: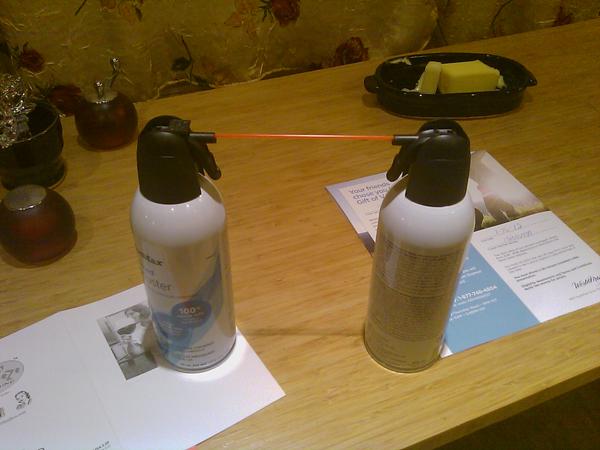 Did a little shopping at Uwajimaya on the way through to pick up my car. Kalbi marinated half chicken for dinner, and stock on the stove after.
[? ? ?]