My first Saturday working the shop along except during the wine tasting. Got the Wall Street Journal read and some of Popular Mechanics, but that's about as far as I got. Too many good distractions like selling wine.
Jill came in for a bit. Bought a split of Gruet Champagne to go with the 18 oysters she bought in the International District — sounds like a damn fine meal to me for someone having trouble chewing! Flo came whizzing in about 6:30 needing half a case of the Spanish wines we were tasting this afternoon. In and out in under ten minutes without even tasting — he was headed over to Greg and Patsys two blocks away for dinner and was late. Hope he likes the wine. Should I have told him Greg isn't drinking this month? Should I have told him they are on part of the Madrona Wines Monthly Wine Club and they are well stocked? The only other odd customer was the guy who runs an underground restaurant in his house once a month (for 35 people) looking for wines to pair with a really wild menu so he could send people in for wine. I'll try and dig up the menu and post tomorrow. Wish I'd gotten his email address as he invited me over to join them for dinner (but I'll be beat after work tomorrow).
Got home a little before 8 and fired up the ice maker and the convection oven. Tonight's meal is chicken thighs with a lemon grass marinade. By 8:30 the thighs (well, two of them) were on a bed of greens and on their way into my stomach.
Today's picture is actually from Friday — Ken (the maintenance guru at the apartment) is installing the new Swanda sized toilet. As you can see (though the angle is a little disconcerting) the counter top has already been raised 7 inches. Thanks Ken, nice job. Must remember to take him a bottle of wine.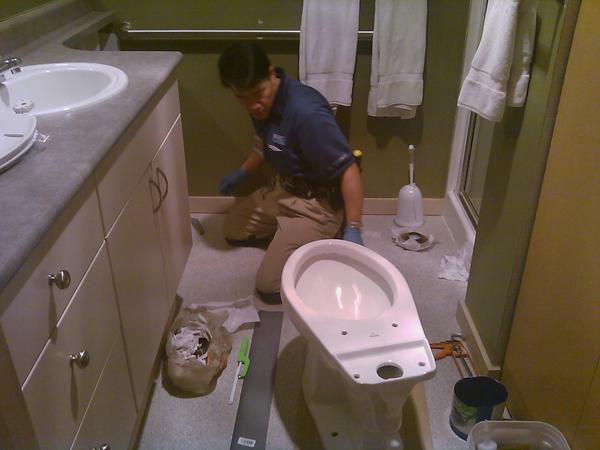 Didn't get squat done on the eBook project to convert all of the issues of Sign of the Times — A Chronicle of Decadence in the Atomic Age. Working with Fernando on in-book graphics (I want the back cover to be included). One issue that has been resolved is that I don't think the original photographs and artwork will be in the eBooks. At least not the photographs, the quality of them once they are rescanned just isn't there. Maybe the next eBook I should be working on is the Anthology as there were no graphics other than the front/back cover.
Off to bed.
[211.8]