More work on the directory, a never ending project — all Libboo projects are on hold until I get the directory printing. Then off to work at the shop for the wine tasting, then over to Greg's to pick up a printer that he is donating to the faeries for a tax-deduction and a bottle of scotch (partial, as we started hitting it when I got there). But before I show the printer, I have to show you the Patsy (Greg's wife) picture — all whe needs is a diamond necklace or something. The simple (and elegant) black dress: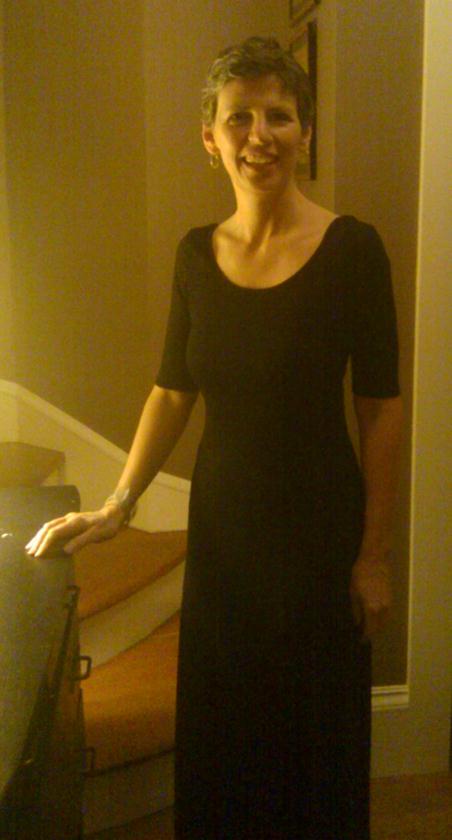 So, in the picture below we have several "printer" related bargains. The printer (top two thirds of the printer) from Greg (who bought it from me YEARS ago). The duplexer and extra paper tray from Floating Bridge Press via Wonderful (who bought it from my YEARS ago), and the pile of toner and drums courtesy of UW Surplus (University of Washington Surplus Store) at $5-$10 each.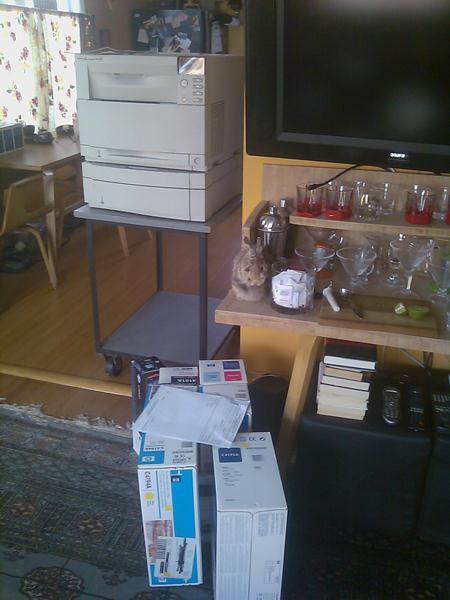 The downside is that at the moment the printer is in my KITCHEN and will probably remain there until the directory is printed. Oh, and the downside of getting it down the stairs at Greg's house and into the back of the SwandaSleigh. Greg was there (sick with a cold) to help me get it in, but at my house it was up to me (I brought the trolley from the garage).
Basically it took me all night to get it tuned up to get good copies in preparation for the directory printing.
That and a chunk of lamb was my evening.
[210.0]