Time for the morning coffee: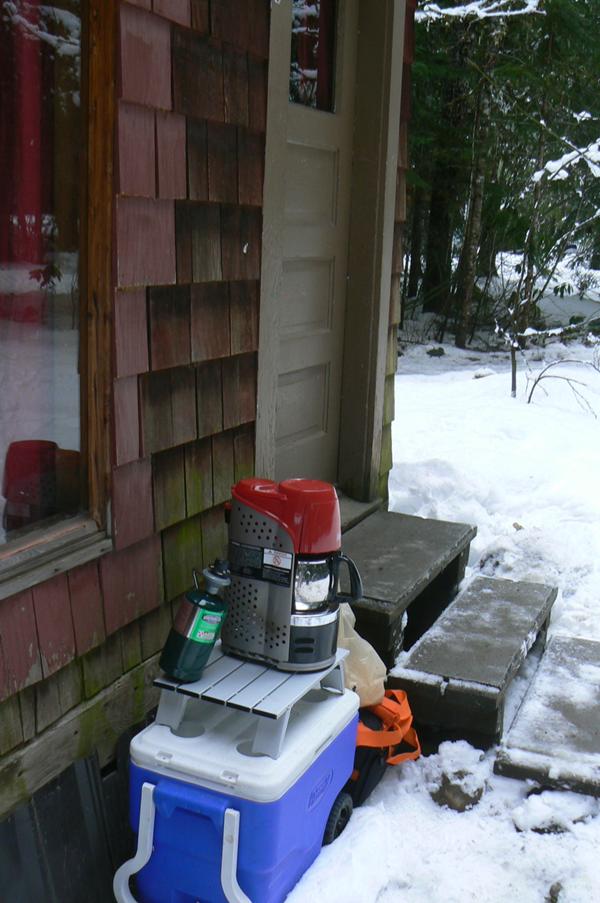 I found out that the new mini-camp table is even handier than expected as it fits nicely on top of the cooler allowing me to not melt the cooler lid (and much less bending over as well). Yes, that is a propane-powered drip coffee maker (Coleman, $85 with stainless steel carafe — $10 less if you are foolish enough to buy a glass carafe for camping).
I got a nice soak in before lunch with some of the other early arrival faeries and a straight tattooed couple. As for lunch, the usual stems and twigs (with dressing). Being on the low carb diet thing, I mainly eat from the salad bar and supplement it with meat and cheese back in the cabin.
People started rolling in around 3pm and the cocktail party was set up at 4pm. I brought (8) bottles of wine and (2) 1.75 liters of Evan Williams. The boys brought a case of wine. And I know that more will show up throughout the weekend. Not bad considering there is a no alcohol policy at the Bush.
Same routine at dinner… meat and cheese at the cabin, roughage at the lodge.
Once again, I managed to miss Faerie 101 (basic overview of how the Bush works, protocol for heart circles, meaning of hissing [agreement]), and the opening ritual. I headed back to the cabin for more socializing into the evening.
[? ? ?]