True to my prediction, I didn't make it about of bed until 11 unless you count getting up to pee. And speaking of peeing, the other night (not last night), like woman living together for a long time have their cycles line up, at 5:30am each of us got up to pee. Ah, men in the woods.
Not much in the way off snow this morning, and the temp seems to be warming a bit so hopefully when it's time to leave tomorrow the roads will be fine. Here is a great shot of the main lodge courtesy of Lightening: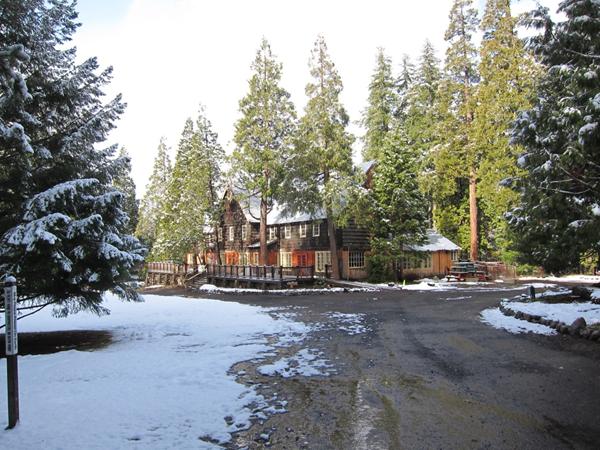 Just the normal woods routine today with the exception of the coffee maker blowing up this morning. Well, not blowing up as in a gas leak, more like the flow stopper (for when you pull the carafe out) fell off, so, no release, and now place for the water to go other than up and out over the coffee grounds. Messy. And left me with only half the normal amount of coffee.
The auction is the main event tonight. This just reminds me that I haven't paid for last year's auction item which DancingBear and I are planning on using in late March to spend three nights (plus we purchased and extra night) in a three-bedroom house a couple of blocks from a nude black sand beach just south of Hilo.
Let's hope I don't go too crazy in the bidding from my usual seat on the front row (right hand side when looking at the stage).
[? ? ?]