Slept in WAY late because I had used the computer as a clock and hadn't set it back to account for the time change. Was up at 10, which my body said was 8, as did the clock.
Wendy and Paul picked me up a little before 1 to head to Arthur Bryant's for BBQ, and what should be on the morning paper's front page?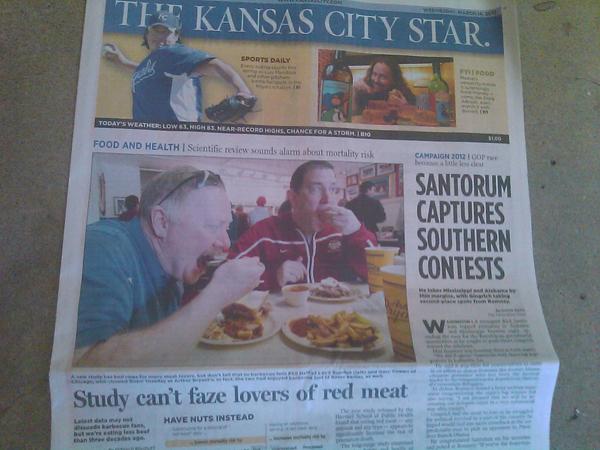 A shot of two big guys pigging out at Arthur Bryants. And here are Paul and Wendy doing the same thing: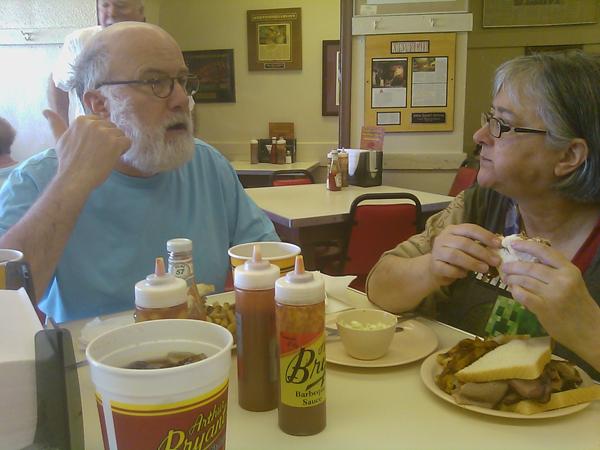 And if you read the label closely, you will find LARD as one of the ingredients.

Should you want to, click on the image and you will go to the Arthurs site for the blow-up.
I came out of there with a case of sauce for the store. Then stopped at a grocery store to grab some Gates and Sons sauce so that the shop will have the "battle of the Kansas City BBQ titans" available for purchase.
Tonight is dinner at a German restaurant called Grünauer in the Freight District. Basically every skuzzy old neighborhood in the central core of Kansas City is being kitted out with new restaurants and shops. I was a little surprised at the recommendation since going to a German restaurant isn't usually a good bet for a vegetarian. But it worked. I had the beer brauts with the mashed potatoes swapped out for steamed spinach. Yum. And because of the opera tickets we got a round of espresso/schnapps to warm us after our meal. We even split a bottle of Austrian wine — a Grüner Veltliner 2008 Höpler, which is a dry white with lots of citrus overtones.
And then it's off to the opera: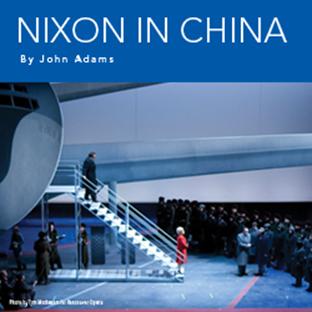 I have to say it was one of the most intriguing operas that I've seen in years. Great sets, wonderful music, and an odd plot line that had Henry Kissinger as the devil.
And the hall is stunning: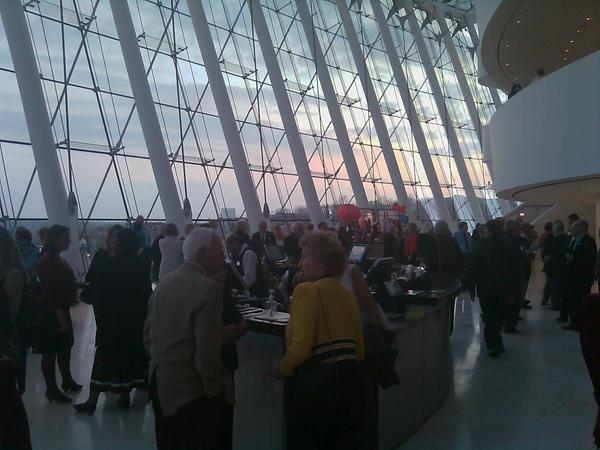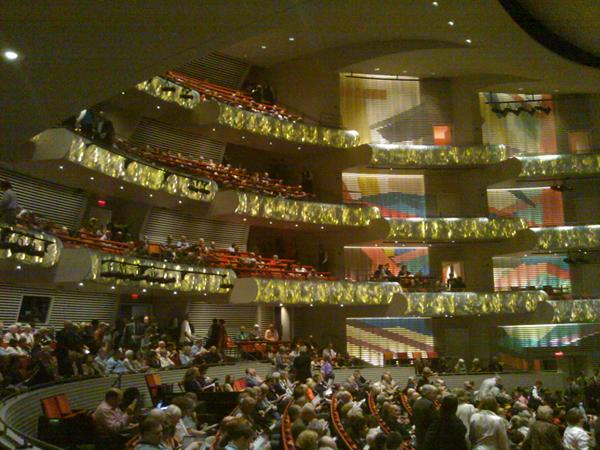 That's it for today, back late (at least for the kids).
[204 but it's their analog scale so who knows]