Finished up some things at the apartment, then met Jimmy at 11:30 in the food court. Off to Ballard (Shilshoal, so FAR Ballard). Giving Jimmy a ride because the bus runs maybe once an hour out that far.
Today's tasting is another of those gigantic affairs:
165 wines open for sample, probably did ¾ of them
46 bottles of spirits open, did three (yes, only three)
Here is a note that I sent to Dan about the day:
Thank god Jimmy didn't get a picture of me SPITTING booze — rums, etc. are now part of industry tasting. I did swallow the 10 year old Rye from Whistle Pig in Vermont. I threatened to go upstairs, get some of the really expensive vermouth ($32 a bottle wholesale) they were tasting, come back down, add the Pig Whistle Rye (10-year-old whiskey from Vermont, and not cheap), and some of the bitters (Bitter Brothers, I believe) they were showcasing. They said go ahead, but after 2+ hours of spitting wine, I was kinda done.
Doesn't pay (much) but it's a fun ride.
And more amusingly, here is what your glass and program look like after three hours of intensive tasting (at least the food was good):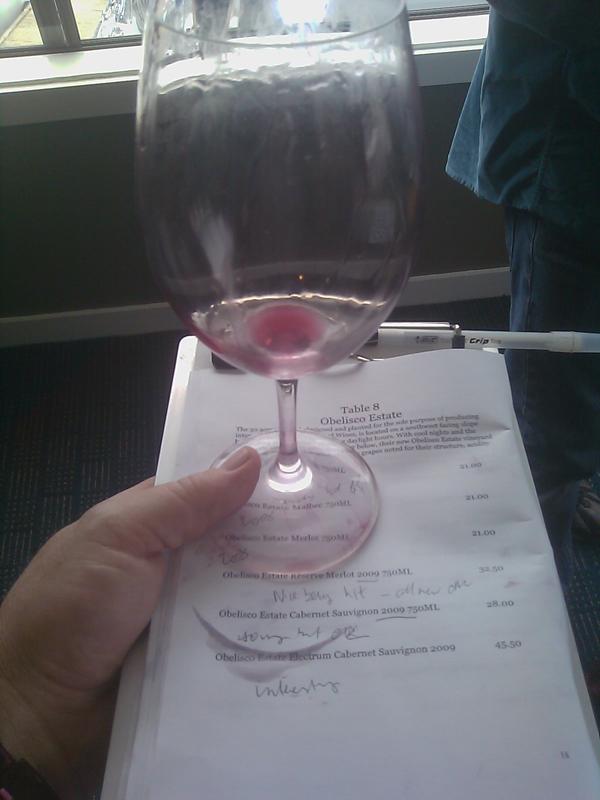 Note the massive wine residue on the glass.
My plans to deal with Swanda's title issue were put on hold until tomorrow, easier to go grocery shopping, gas up the car and get it washed with the tasting running to long.
Finally got around to finishing getting the Cascadia Radical Faerie Resource non-profit site up and running separate from the Gathering Site. Now remaining on the list before the summer gathering are:
Update the PayPal buttons to reflect new site
Add new copy for the summer gathering
Add Donation button to the CRFR site
I can get two out of the three done without information from the current QR (Queens Registrar), but left a message to see when text would be coming in and if they needed any of the previous summer's files.
Did a marinated flank steak over salad for dinner tonight.
And that was my day.
[210.1]