Slept well (and long). Made it to breakfast at about 7:30 with the wait staff looking very harried — apparently we are arriving into Vancouver almost an hour early which means they have to move a lot of people in and out of the dining car quickly.
Time to say goodbye to my home for the last 26 hours: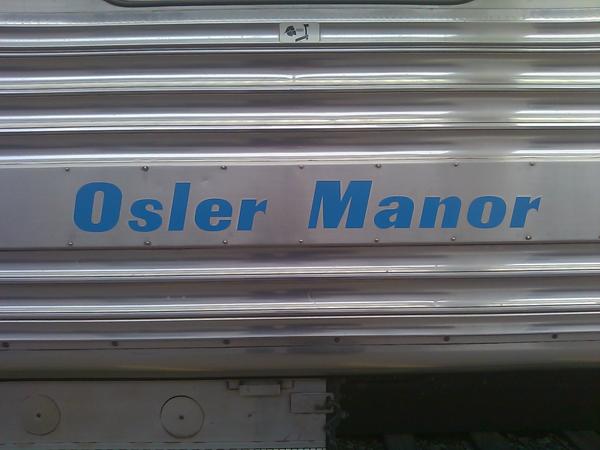 Click on the photo to go to the ViaRail website with a description and specifications for the Manor cars. And time to say adieu to odd ViaRail signage: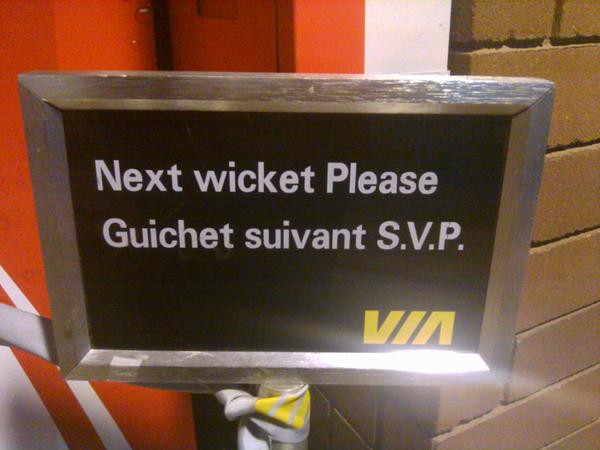 The Colonels and I grabbed a cab to their hotel where the chances of their room being ready was much better than mine. When I called The Canadian to inquire, I was informed that nobody had even checked out yet this morning. At least I had a place to campout, check email, and update the blog.
Noon found us in search of food at the White Spot around the corner from their hotel. Oddly enough we all ordered salads. Maybe it's all the good, but fat-laden train food we'd been having.
After lunch I headed over to The Canadian to hang out in their rec room where I knew there were nice comfortable couches to read and nap while awaiting my room that was finally ready at 3:45pm, just after I'd gotten back from doing the grocery shopping for dinner. Now THAT'S a run-on sentence.
The Colonels showed up a little after five for cocktails and then dinner. Tonight's meal was broiled salmon (yes, I set off the smoke alarm) with a nice salad and a baguette. We whiled away the time chatting, drinking and doing their laundry (and some of mine).
I'm afraid I'm going to have to restock the wine and whiskey again for tomorrow night.
[? ? ?]