Apparently, this trip is all about the entertaining.
Morning shopping for lunch ingredients.
Lunch today sautéed chicken breasts over a bed a greens, dinner rolls, and a nice bottle of cold white wine. Guests are Helene, The Colonels, and myself.
Nap.
Afternoon shopping for dinner materials.
With six for dinner, it's more like a spread of heavy appetizers. Several kinds of hard sausage, some liver sausage, a pork loin, smoked salmon, lox, brie, white cheddar, a baguette, crackers, olives and mixed pickled vegetables and I'm sure I've forgotten something. Add a bottle of whiskey, three bottles of wine and a little chocolate and a lively evening of "Question The Homosexuals" ensued. I love the fact that The Colonels feel comfortable enough with my friends to ask all those questions that they've wondered about, but were afraid or more likely, no one to ask.
Only one picture today, of the beautiful sunny day in Vancouver.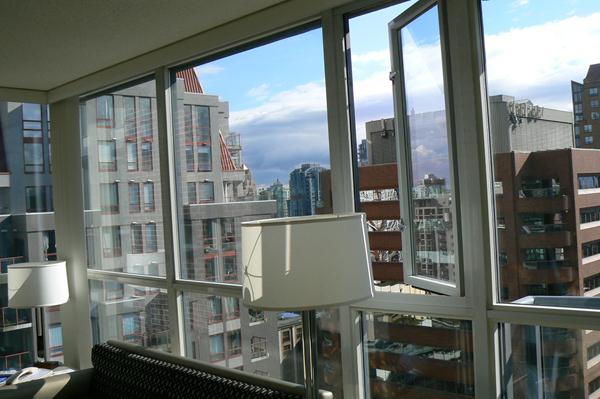 OK, two. An evening shot.
My final act of the evening was to request at 5:30 wake-up call. Yet another early day coming.
[? ? ?]