A lazy morning around the house, well, not really. While CaddyDaddy made breakfast, I worked on:
Making the Madrona Wine Merchants flyer for Children's Trust two-up on 8 ½ x 11
Printing out 80+ copies
Making the review forms for the scholarship reading
Printing out the review, tally, and financial needs form
We got out of the house about 11:15 or so, with a swing by the shop to drop off the flyers, then back on the freeway headed north, with only a stop in Mt. Vernon to do some thrift shopping. Picked up a bread machine to replace my dead one ($5), and six more wine glasses for the shop (.25 to .49 each).
And then we are back on the road again with Rich for his birthday. Last year it was Whistler and Cabo San Lucas, this year we are at the military hotel for three nights right on the beach in Waikiki.
I will say that the Bellingham airport is a zoo if you aren't an MVP flyer. Three check-in agents for two flights – a big bird (737-800) to Honolulu and a small bird (turbo-prop commuter) to Seattle, all leaving within 10 minutes of each other.
Luckily we were both MVP and First Class, so instead of the snaking line, it's like two people in front of us (neither who should have been in that line). Oh well.
Uneventful flight up front. I (and I'm assuming a lot of other people) drank then first out of Scotch, then Bourbon, then Cognac. Luckily CaddyDaddy was drinking Rum and Diet Coke.
Bags were going around before we could even get to baggage claim – then off to the shuttle, last on, first off, got to love that.
Upgraded to a Garden View room: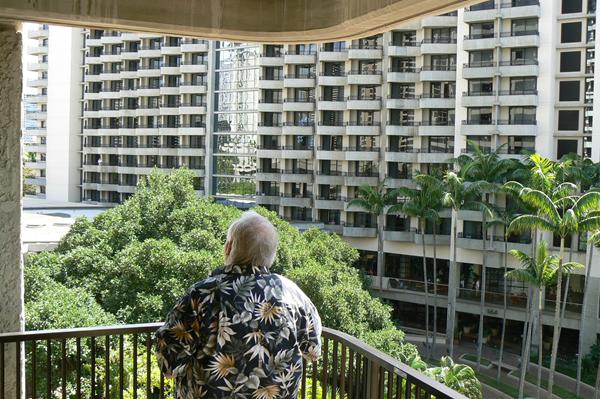 Before long we were off to dinner. Fourth meal of the day if you count that quick sandwich at the Bellingham Airport. I went for the steak salad, and CaddyDaddy had a salad and pork loin. Don't we look happy?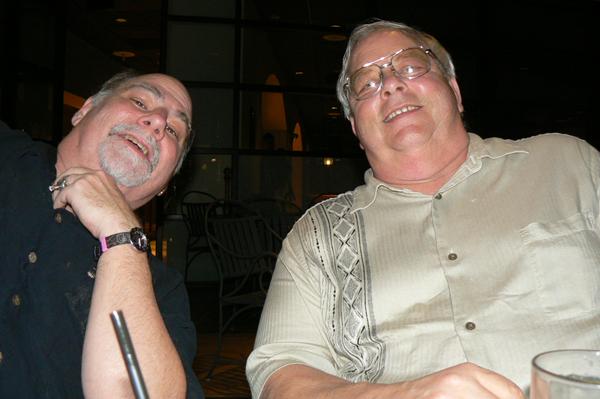 Back to the room for a little junk television and off to bed.
[210.2]