Never again will I take that red-eye flight – it just ruins the next day.
I slept most of the way back from Bellingham. CaddyDaddy would have liked to, but alas, he had to wait until we were back in the city and I was on my way to the shop.
The first hour and a half was my duty time so Jim could attend a tasting. My original plan was to do the tasting as well once Jim made it to the shop. Instead it was back to bed. Like I said, a ruined day for getting anything (like mowing the lawn) done.
The late after found CaddyDaddy totaling up the bills from the trip so we could split them up: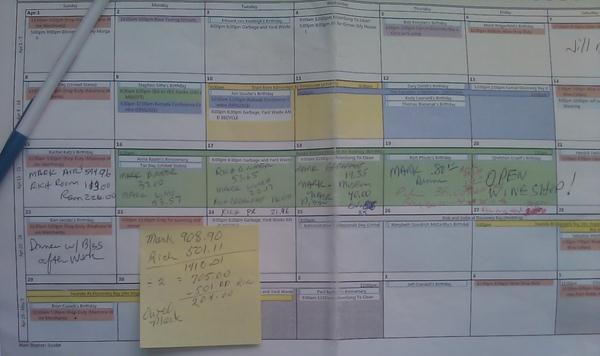 Since I had my calendar with us on the trip, it made an easy way to keep track of who paid what. It didn't include the two bottles (one vodka, one gin) that I bought at the Post Exchange located inside the hotel. The total? $1400 for two of us for four days, including airfare. $175 a day. A little spendy for the frugal me, it was all that eating out because of no kitchenette in the room.
CaddyDaddy and I split an almost 2 pound rib steak, a salad, and I even made bread for the first time in the months since the old bread maker died. Yes, the $5 bread machine from the thrift store works as promised – it even came with the manual.
After CaddyDaddy left, off to the store for me. For $23 I got 6 bags of groceries, most of the items were from the 50% off bins – my savings were 64% according to the receipt. Luckily it was all stuff that I needed.
[210.4]