Elkerton and I didn't get the scanning done until after 1pm when it was time to break for the taco truck. Torta for him, three fish tacos for me.
For some reason (like looking for a pcmcia card) I decided to sort, organize, and bag all there various computer cables and small bits of hardware and move them to the garage. I got so wrapped up in the project that when I looked at my watch, it was 5 o'clock and I was late for Swanda's and in danger of not being able to pick up my package at the office.
Got the apartment in time for the package, with Fluffernutter arriving shortly after to lower the bed by two inches per nurses' orders – which amount to just flipping the concrete blocks that hold the supports on their sides. We did discover that the box spring was cracked in a couple of places, so that was spun so it faces the window side of the bed.
And as for that dinner:
Cole slaw
Asparagus with Alfredo sauce
Two pork loins (of which we ate a little over half of one, LOTS of leftovers)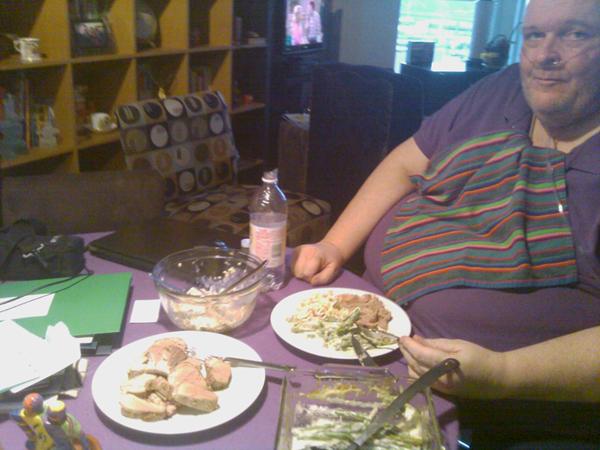 No wine since that's not back on his diet yet, and it has carbs. Funny that vodka doesn't.
Home by nine to spend more time playing with my new Windows 8 machine – it really would benefit from a touch screen. And it's a radical change from the current system.
[207.8]