More running around town today – Swanda's to drop off Handicap Placard, Jim's in install DropBox that didn't install yesterday, liquor store for Swanda, Wonderful's to pick up an item of clothing for next week, and then home to start marinating the boneless country style pork ribs for dinner tonight.
Today's humorous picture – Jim's home desk and his collection of readers: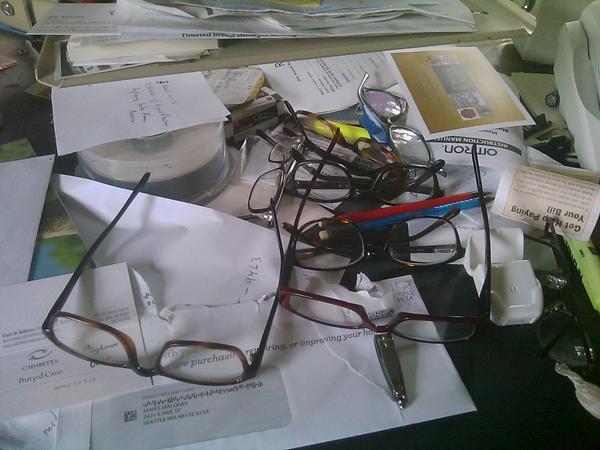 I admit that I have a few pairs – though they don't usually end up all in the same place.
More organizing and labeling. At this rate, by the time my brother arrives this weekend, there might be a clean office for him to crash in.
Oops! Almost forgot to post this — the first hundred people to click on the link below get a free download of the Sign of the Times Anthology in eBook form:
Libboo is testing a new feature to spread books virally, and we'd like
you to be a part of it! Â We haven't announced it publicly yet — you're
part of our sneak preview.
Below is a link that you can share that will allow the first 100 people
who follow it to download a free copy of your book. Â We will then work
with you to encourage them to spread the word and get even more people
reading your book.
LINK -Â Sign of the Times Anthology:
http://www.libboo.com/free/34327bc4-8fdc-11e1-971f-b8ac6f9911bd
Email this to fans, post it on social networking sites, spraypaint it on
a wall… do whatever you like to get this link out there. Â We'd love to
hear feedback about how you use this so we can tweak our process.
Now I'm done.
[209.1]