Out of the condo at 11:30, just before the noon deadline.
Out into the pelting rain.
Many stops later looking for Alli I came away unfulfilled, a.k.a. no Alli. Apparently there IS a serious shortage. Might try CanadaLand next week.
Out of lettuce – and I stopped at three Safeway stores – I text Swanda in search of a dinner date. He says: I have salad and asparagus. I have chicken thighs which I could easily defrost in time after arriving home at a little after 4pm.
Evidence of the dinner below: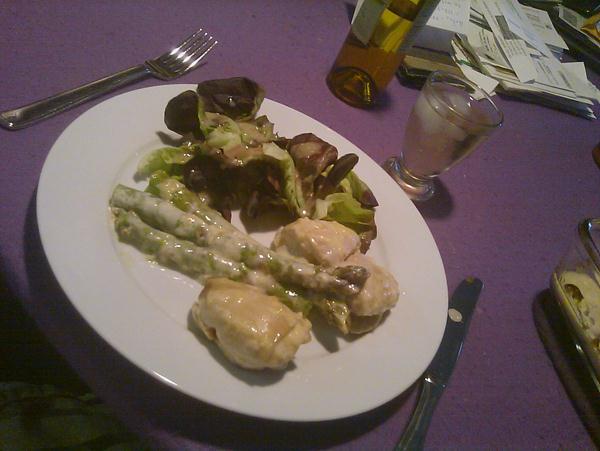 And here is a shot of Swanda's new ride – found by Fluffernutter at UWSurplus, but it had already been sold last week – to the guy in front of him in the line, who offered to sell it to him for twice what he paid for it — $80. A steal. Came with the promise to sell it back to him at $80 when he was done with it. Go Fluff.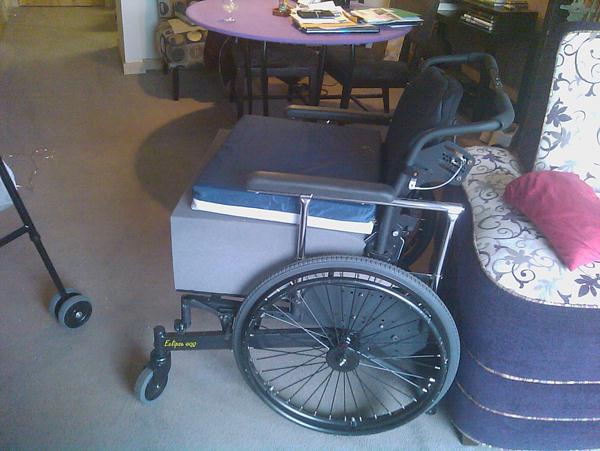 Left early so I could make an appointment with someone trying to sell me knives – he needs practice on his pitch. I'm not sure he knew when he asked that I've got a lot of experience in deflecting sales pitches. How many AMEX gift cards have I scored from WorldMark (turned down one in Seaside as it was only $50 and a breakfast that is mostly starch).
By the end of the evening there were several halves of pennies on the floor (one from his scissors, one from mine). I'll give it to him that he didn't give up. Turns out he's also hocked WorldMark and Kirbies.
And he left his "self-healing" cutting board. I hope it's dishwasher safe since that's where it is at the moment. Will take to the shop this weekend.
Nice to be back in my own bed.
[? ? ?]