What a seriously slow day at the shop. I blame the first decent weather in weeks. 90% of the days sales were in the second hour with one customer making probably 75% of the days sales. Couple of nice bottles of Dunham, a grower Champagne, a $47 bottle from the tasting. In all, six really nice bottles. Of course, being from Canada, all our wine looks cheap compared to what they have to pay in BC – just means they are drinking much nicer bottles down south.
Funny thing — the Canadian, when I mentioned I'd be in Vancouver tomorrow and staying at The Canadian, he laughed and said "Me, Too, we have one of the townhouses (3 stories with roof-top deck, NICE). I should have gotten his number and invited them up for a drink.
Speaking of sunny days, yep, got off work, fixed a drink and immediately headed out to mow the lawn. By the time I get back next week, it would have been a jungle. It was a bit of one as it was.
Pork loin chop (again), but this time with sauerkraut that had been marinated in white wine (Camus Conundrum). Quite tasty.
Next up – PACKING.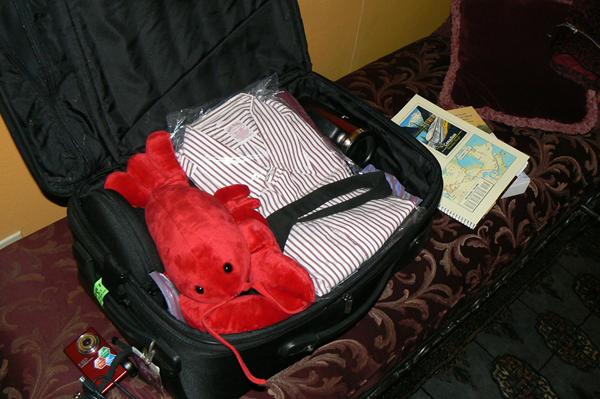 As you can see, Mister Lobster is going along for the ride. He's a nice pillow if nothing else.
[209.4]