Woke up in Saskatoon and didn't even bother to get off the train for two reasons. No wi-fi, and it's breakfast time.
Breakfast: same as yesterday but with ham. Should have had the mushroom/bacon/cheese omelet yesterday as today's it total vegetarian. Maybe tomorrow as the omelet changes daily depending on what the chef has left over from the day before.
As is my train routine, up early, eat, back to bed – like a baby cow being prepped for veal.
Today's big stops in addition to Saskatoon, Saskatchewan is Winnipeg in Manitoba, where "in theory" we have two hours. With the number of "sidings" today, should be interesting. It is also the next wi-fi/supply stop (more Diet Coke). When the train isn't in sidings it is going like a bat out of hell with every crossover track it encounters a large clank and a side sway. In the evenings one has to find a sleeping position that one doesn't tend to roll – for part of last night the only one that didn't bother my knee was on my back. Luckily the cabin has a door to cut down on the noise of me snoring.
Three pictures for you today.
This is what all of Saskatchewan looks like. Think western Kansas/Nebraska and eastern Colorado. Flat wheat fields mixed in with oil wells.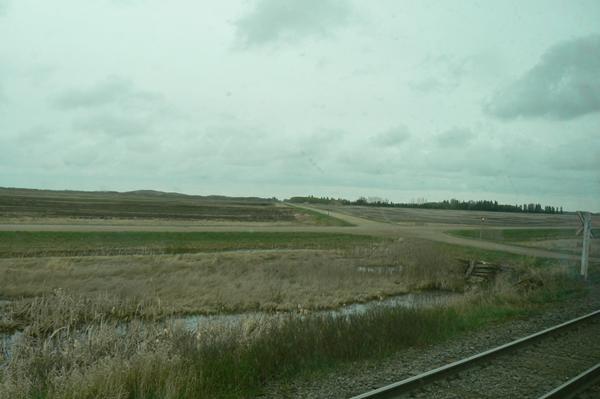 This is what all of Manitoba looks like. Think eastern Kansas/Nebraska and Missouri. Rolling hills.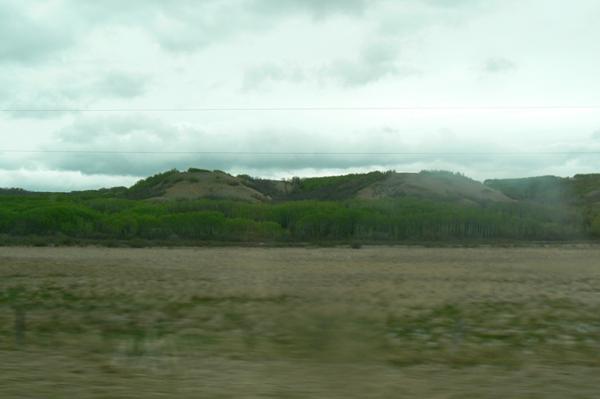 And this is my porter Joannie, pronounced Jo-aann-e (that's French, you know) on her last trip to deliver some ice for the lobster. New crew in Winnipeg, time to start the ice training all over again.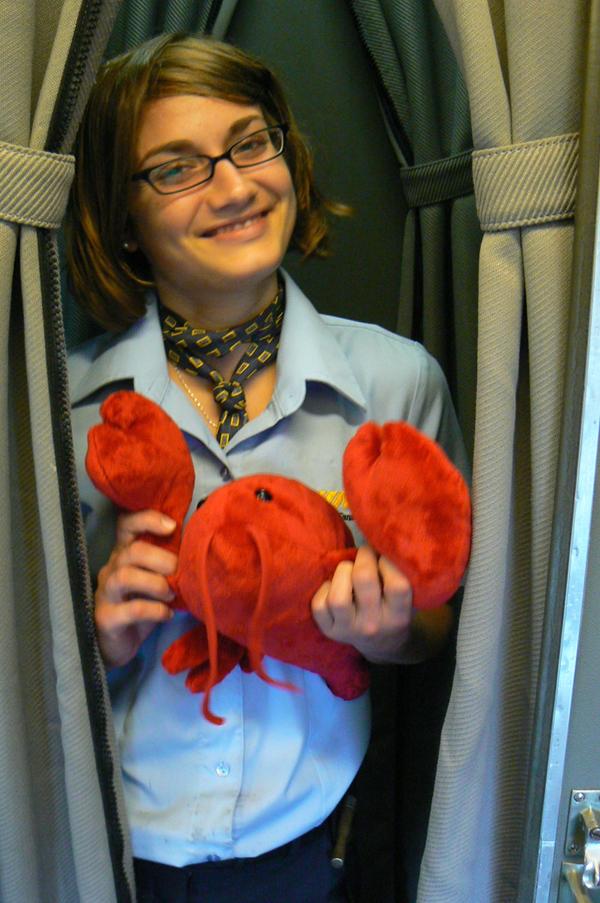 Finished the book on Fred Harvey, which appendix one is the tail of a recent trip on the Southwest Chief by the author and his wife, and then we roll into Appendix Two which are some of the recipes from the Harvey House restaurants. One that I grew up on is for Angels and Horseback:
Dry large oysters with towel, season with salt and cayenne pepper. Wrap in parboiled strips of bacon and tie with toothpick. Dip in flour, eggwash, and fresh breadcrumbs. Place on skewers, and fry in hot lard a golden brown. Serve on toast, and garnish with quarter lemons and parsley.
Not exactly my mother's recipe as I remember it, especially the lard, but it would have been generationally appropriate.
The book itself is about 400 pages before you get to the back matter (including the Appendixes) of about 50 pages before you get to the index and citations, another 50 pages. I mention this because I think there are a number of other people who would like to read this book. The current list is Swanda, The Colonels, Dwight, Dad (maybe even Mom and Helene for the recipes).
Guess I should have thrown in a couple of more books as I'm down to the KenDoll and its couple of issues of the New Yorker and odd freebie eBooks.
Dinner is served early tonight so that the crew can get cleaned up for our supposed 2030 arrival (that would be 8:30pm). Not sure how this fits into the 7pm wine tasting which I might have to miss.
Caesar salad, prime rib, and beyond al dente vegetables was the dinner, with a split of Cabernet from Australia. Damn it, I hate paying restaurant or even retail wine prices these days. But it's good for my heart.
And for the last picture of the day – toilet top dessert. I got mine to go since the Prime Rib filled me up and I knew I'd want a little sweet after checking email in Winnipeg.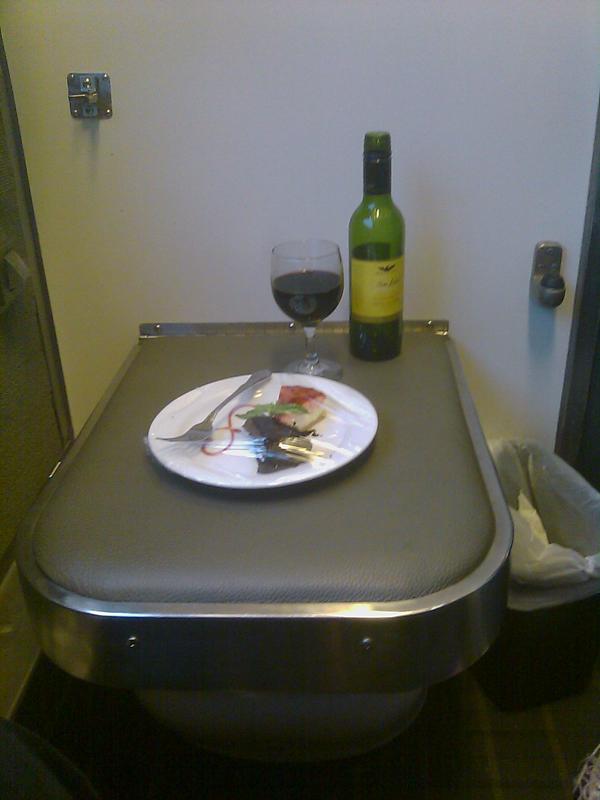 That's it for the night. Think I'm going to have to bing and purge when I get home.
[? ? ? ]