The morning routine unchanged, but the scenery has: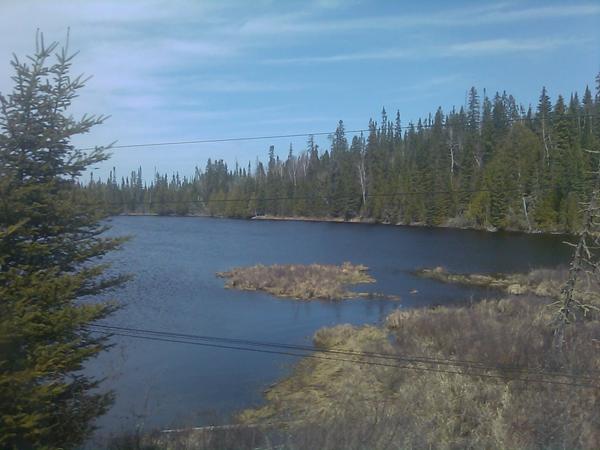 Think "Lake Country" now that we are in Ontario.
Had breakfast with the three ladies from Australia (the usual) and lunch with the Québécois from lunch yesterday.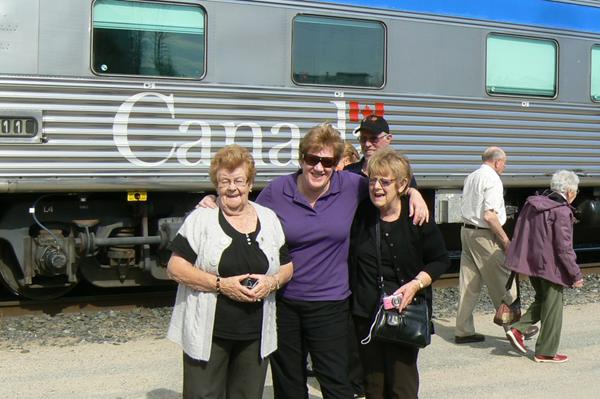 What I was craving after breakfast was a nice big salad, and I was rewarded with a Greek Salad with braised shrimp on top. Apparently I've been a good boy this week.
A little update from yesterday after I posted. When I was checking email there was ANOTHER email from United telling me that they'd changed my flight to the morning flight AGAIN. Luckily we had a little time (45 minutes versus the standard two hours) in Winnipeg for me to track down a pay phone and get it settled with United that:
No, I couldn't take the morning flight as it leaves at the same time as my plane gets in
Yes, 55 minutes is enough time for a connection as I clear customs in Toronto, not Chicago, and
Yes, the flights do come into the same terminal.
Much typing later with notes in my reservation, I'm back on the 4:30pm flight, but by this time I'd lost my bulkhead aisle seat, but at least got a bulkhead window seat.
I'm blaming this on the United/Continental merger and different layover requirements. They are now answering the phone "The NEW United, how may I help you." Answer: quit changing my flights.
As of the afternoon, we are running about an hour behind which isn't a problem for me or the Québécois unless it becomes two hours behind and then they will miss their connection.
I'm doubtful this post will be made at Hornepayne as it's a fairly small town. But I'll try (and fail). But I did pick up a little more soda – to bad I missed seeing the larger grocery store where I might have picked up another half pint – guess it's to the bar for me tonight after dinner.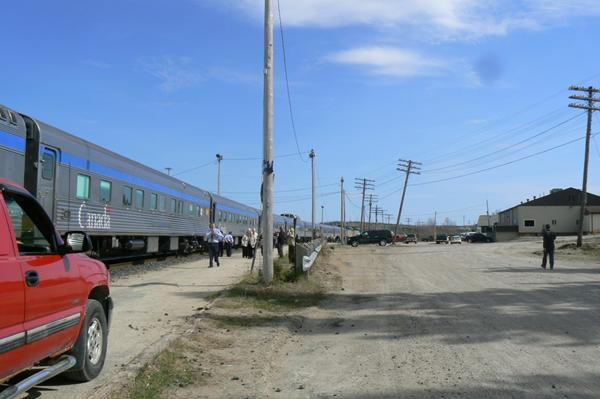 ggg
Also as of Winnipeg, we have new train staff. Meet Jeremy, my new Porter (and his trainee, Paul), who are MUCH more responsive with the ice, and even brought me clean glassware:
Dinner tonight was again with the Aussie ladies – I'm beginning to like them – and they like me as well because I have my father's flirting skills. The ladies had the rack of lamb (in short supply – wish I'd had it) and I opted for the substitute of the rib eye, which if it was twice as thick and half the width would have made for a better meal, but they did manage to get parts of it medium rare – as opposed to the ladies who wanted their lamb "ala Helene", a.k.a. well-done. Chowder and a spinach/mandarin salad before, dessert in the room later – guess this diet just went down the tubes.
Arrive Toronto in the morning.
[? ? ?]