Rolled into Toronto on 15 minutes late which is good for those with tight connections to make. For me, it just means less of a nap after breakfast. Lordie knows what this trip is going to do to my weight loss program.
After disembarking, it's off to the Panorama Lounge to check email and sync up the Ken Doll.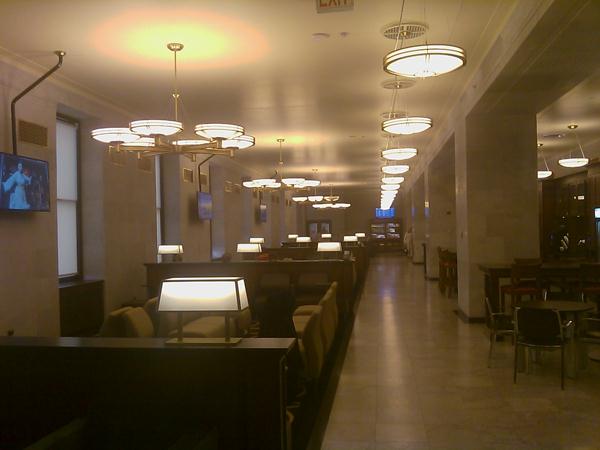 They did a stunning job renovating the space.
But before I go further, a couple of pictures from last night when I dragged the Aussie ladies to the far end of the train to see the bullet shaped "Park Car. The first shot is of us in the bar section: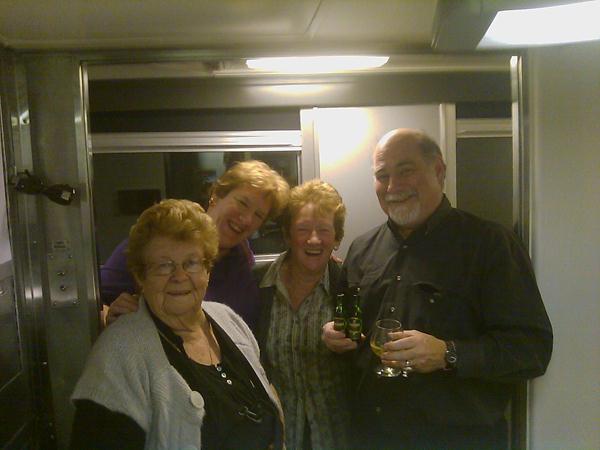 Looks like we are having way too much fun. It might be because of our bartender Sebastian: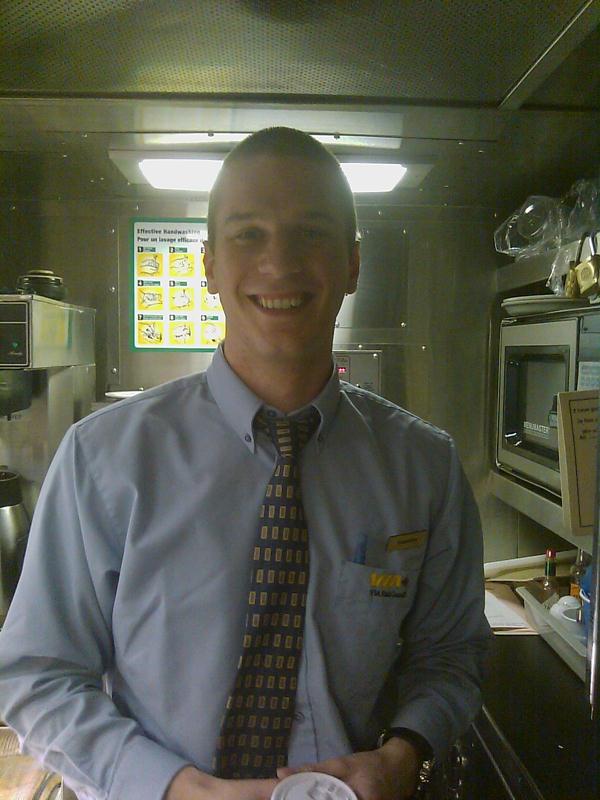 And now back to our regularly scheduled blog post… put a couple of hours in the lounge confirming that United hadn't once again moved my flight forward, posting blog stuff, checking mail, retrieving two more New Yorkers for the plane right home, and swilling down free espresso and Diet Cokes.
For CAN$3 you can catch the subway right across the street from the station that takes you to the airport. VERY convenient even if it is two transfers along with way. An hour door to door. Maybe next time I can figure out how to do this trip in the reverse order.
No troubles with checking in, or customs, though their Nexus machines were down so I had to do global entry, which might actually be easier. Luckily I was travelling with my passport, nexus, passport card AND enhanced driver's license.
Picked up a liter of scotch at duty free and stuffed it into my carryon – the advantage of having already cleared US customs/immigration – you get to take it when you buy it because when you land in Chicago you fly into the domestic terminal rather than the international.
Lunch at the Molsen pub – cheeseburger, but swapped the fries for a Greek Salad to cut down most of the carbs.
Uneventful flight to Chicago arriving early so my worries about a 55 minute layover being too short did not come to pass.
The last leg to Seattle was much more amusing having a pretty gay boy as my seat companion. The only reading I got done was when he passed out for a bit, the rest of the time we were chatting like a couple of old hens (well, one old hen, on chicken). He's a bag designer for Detour, a bike bag company here in Seattle. His partner was stuck in the back of the completely packed plane, at least in an aisle seat. He was nice enough to take a fresh baked cookie and a glass of red wine back mid-flight (with the blessing of the really funny girl stew). He and his partner like near the Arboretum and know the wine shop on 15th that Jim used to be partners in. I might have just added two more customers to our database. I also steered them to the ViaRail Express Deals and the Quillayute River Resort.
Our flight got into Seattle a little early, nice to get a jumpstart on heading home to my own bed.
Since the car was at the apartment, texted Swanda to see if he was up (yes), for a visit (yes, again) so I stowed my bags, picked up some food for me (dinner was a long time back) and headed up for a short visit. Actually managed to get home before the 11 o'clock news, but didn't make it past the monologue for Saturday Night Live, something about it being 2:30am East Coast time.
Want to see all the pictures from the trip? Click on the link below:
https://www.dropbox.com/gallery/71686688/1/ViaRail2012?h=1e180c
[? ? ?] and worried about tomorrow's weigh in.