Today we were tasting Italian Wines – I'm surprised Jill didn't show up, or maybe she did after I left. Two whites and three reds, and by the time I'd left, all but one of the bottles of frizante (slightly fizzy white wine) had walked out the door. Great work by our wine rep who used to own his own wine shop not unlike our own (12th & Olive) who emailed his old list of clients and had them come in for the tasting – and many did. Nice to have new customers in the door – can't wait to see the totals for the day.
One of the interesting things that he mentioned was about histamines, which contrary to what most blame on sulfites, is what gives certain people headaches from drinking red wine. What I didn't know was that histamines decrease over time in the bottle. So, after three years, almost none remain which is why people often say that they don't have problems with European wines – because the Europeans hold theirs back for a couple of years whereas most US wines tend to be released young (mostly for cash-flow reasons).
There is your wine lesion (lesson according to Jill) for today.
After work it was home to change for the opera. Playing dress-up two nights in one week. Damn.
Wonderful picked me up and off to dinner were we – made a little more challenging by the closure of Highway 99 this weekend. It made the Mercer Mess messier.
Dinner at Bahn Thai where it was actually warm enough to sit on the front deck: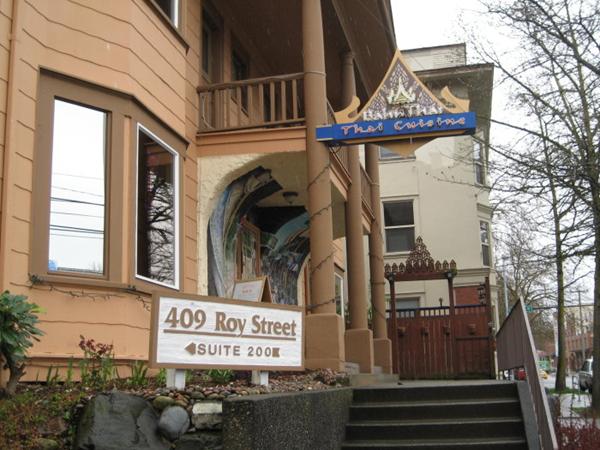 Then it was off to Madama Butterfly:


Think Italian take on American Imperialism. As you can see from the picture, she certainly doesn't look 15 as the story goes, more like +30 on that and the sets cheap (I think they are saving all the money for the next Ring cycle). And, of course, she dies in the end. Lovely music though.
Home to bed after the news and Saturday Night Live with Mick Jagger hosting. Speaking of +30 (or would that be +60).
[212.1]