Another 4.5 hours on the project today and it is done (8 hours total):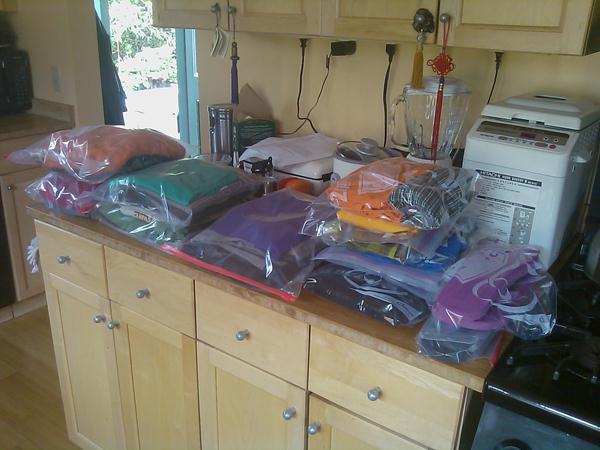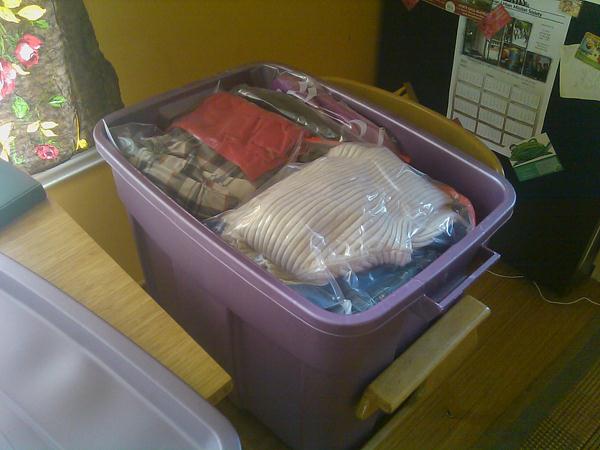 Seven days worth of bagged clothing. All fits into one purple tub (thanks Swanda for the donation of the tub years ago). A set of bedding fit nicely in a garage bag — too bad I forgot the pillow that was in the trunk instead of the cockpit of the car. Oh well.
Dropped it all off a little before five and stopped for ribs on the way home at The Barbeque Pit on Cherry (a little east of 23rd). I love their math – I ask for a ½ pound of ribs and I get a box that weighed (yes, I waited to eat any until I got home) in at 1#, 11.7 ounces – and the styro container only weighed .5 ounces. Even though the price went from $7.50 to $8.50, that's a hell of a deal. I'm guessing that they don't weigh them at all and go by look. Trust me, I'm not complaining – that's dinner tonight and lunch for another day.
And for all those followers who keep hearing references to The Radical Faeries, here is one of the best articles I've seen:
http://www.xtra.ca/public/Vancouver/Radical_Faerie_Camp-12057.aspx
That's it for today.
[210.7]