Headed to Santa Fe today. Going through the parent's house with an eye towards acquisitions.
So far I have dibs on:
Two massive Cerwin-Vega speakers (to match the other two I got from the parents years ago)
Sewing Machine (my current one is my mother's college graduation present sewing machine)
Belt Sander
But first I have to get there.
Off to the airport at 4:30 –flight is too early to park at the apartment, so it's off to MasterPark I go.
For some reason no TSA easy-check line for me yet. They must be rolling it out based on how much you've flown this year. The Pre program from the TSA allows folks (like me) who have Nexus cards and Global Entry to leave on our belts, shoes and light coats, and keep the toiletries and laptops in our bags. Looking forward to this. More information here: http://www.tsa.gov/what_we_do/escreening.shtm
Flight to LA on time, love the new Board Room at LAX. Alaska moved terminals to be closer to Delta (though not their other partner American). A couple of drinks and an espresso later, it's off to find the connecting bus to the American Eagle terminal. 25 minutes later a bus (rather two) show up. Good thing I allowed plenty of time (it me after all, and those who travel with me can only chuckle).
Flight to Santa Fe on time with Dad there to meet me.
Couple of hours later remnants of the Ortiz gang arrive. Kennan, Karen and the foreign exchange student are all hiking and camping for the next couple of days – which is bad timing since its dumping rain at the moment, which might mean snow in the ski bowl where they are hiking. The remains of the gang are Jenifer (sis-in-law) and Emily (niece). Marvelous rib-eyes off the grill tagged with margaritas, salad and chilled golden beets. Normally it would have been wine with the meal – but we needed to finish off the pitcher of margaritas my mother made for happy hour.
No Margarita for Dad or Emily as Em isn't twenty one. She did flash her fake ID which is scannable and truly a pro job (for $300 for two of them I should hope so).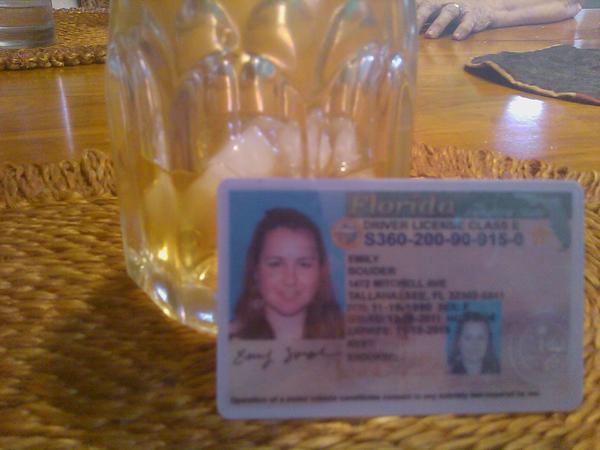 Should have taken a picture of the back of the card as well since it has all the machine readable stuff on it.
I'm not sure I would have whipped this out in front of my mother when I was her age.
Add a couple of more things to my "taking home" list:
Press proof of the cover from the first Sign of the Times (framed)
Dustpan made from a New Mexico license plate
Insulated cooler designed for the Miata, though not sure how it will work in mine
Palm sander (need new rubber pad)
All my report cards from growing up (expect several posts once I'm home and they are scanned)
That's it for today – off to bed.
[213.0 but before morning routine]