I have some exciting news from Santa Fe – my parents just put 10% down on a 2-bedroom condo in an assisted living facility (El Castillo). They are on track to take occupancy sometime in July though my father will stay at the house until it sells because he is a paranoid security freak who doesn't trust empty houses even when his daughter-in-law lives next door.
Here are some shots of the place: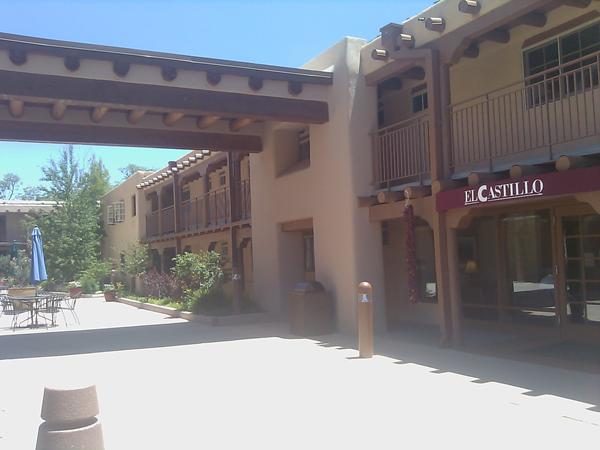 Main entrance (above).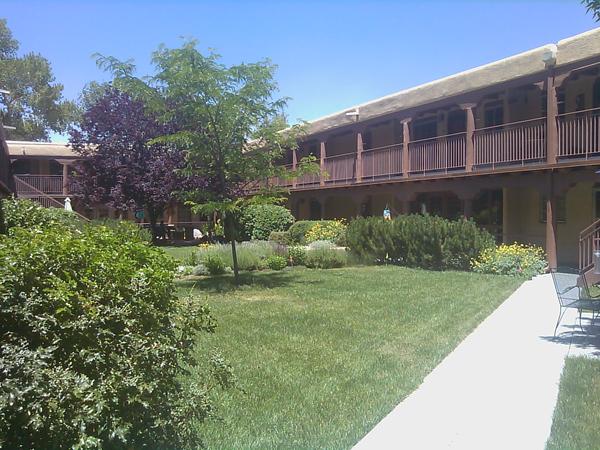 Grounds for their building. Unfortunately you can't see the burbling koe pond behind the trees.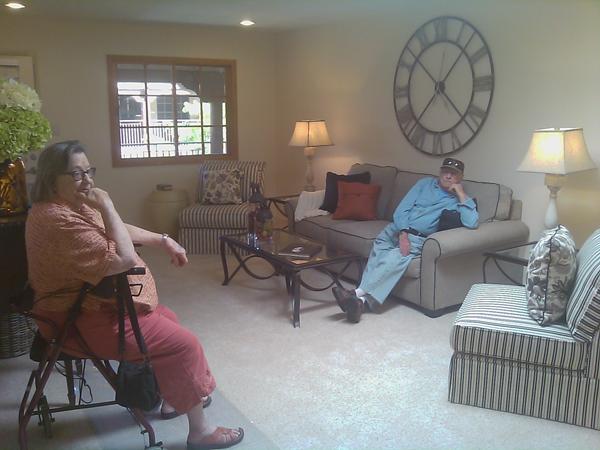 The living room (yes, their actual unit but staged with someone else's furniture).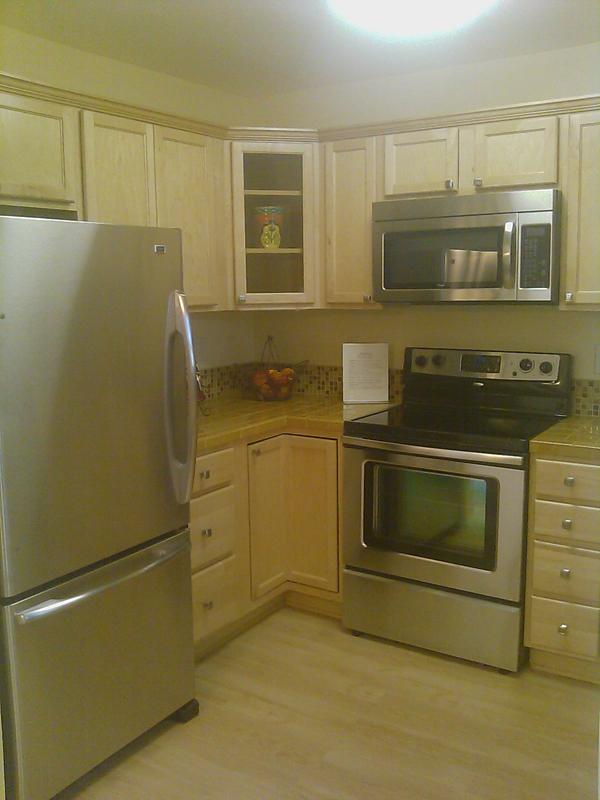 And the all new kitchen with stainless steel appliances and apartment sized dishwasher.
Looked at one other unit that was on the first floor with a back door to a deck – WAY too many entry points for riffraff for my father. The unit they chose (they had seen before) has just one entry point and it faces the courtyard (rather than a historical alley with modern graffiti).
Honesty, I thought that they were just looking at a new unit that had come up and to see what I thought of the place – I wasn't expecting my father to write a large check (though I'm glad he did). Mom has the furniture picked out that is going from the house to the condo, including most of the artwork they are taking – now they just need some muscle after they pass the medical portion of the process which so far is going well – mostly they want to see that they are still independent and able to function on their own.
Pluses of the new place:
Weekly laundry service for all sheets and towels (you strip beds and bag, they return washed)
Weekly maid service (leave your sheets out and the maid will make the bed)
One hot meal a day included (buffet style so you can choose your portion size)
Security patrols evenings and weekends when most of the staff isn't there
A decent deferred payment system while your house sells (another 10% pushes it out another three months, next 10% pushes it out another three months, next 10% pushes it out another 6 months)
First 30 days in care unit free (on-site)
Downside:
The buy-in
The $4K a month in maintenance fees
Dad was pretty quiet most of the evening – long day, exhausted, just made a major life decision. By the time dinner was over (shrimp, hashbrowns, salad) and Mom was in bed and it was just Dad and I talking I sensed a little more calm returning.
Now I have to fit a belt sander in my checked luggage… and did I mention I now have another item – a portable picnic table? Thank god for two free bags.
[210 analog]