OK – that's a line from Jimmy that he screened onto some t-shirts we have in the window at the shop, but it does talk to how my day was.
I showed up at 1pm for a Bordeaux wine tasting that didn't start until two – I went home for twenty minutes of work and came back. At least it was a nice day for a ride with the top down, the hell with wasting gas.
We tasted 31 Bordeaux and nibbled on some nice appetizers at Ten Mercer, a restaurant that Wonderful will never go back to after they brought him a bloody steak (he ordered medium to well) and there was no time to send it back because we were headed to the opera. It was years ago, and I think we got a free dessert out of it, but no matter. Never again for him.
Vintages ranged from 2006 to 2010 with the majority in the 07-08 category. Old enough to start drinking, young enough that they can hold for many more years in the cellar. Here is what I swallowed:
2008 Chateau D'Assault (St. Emilion), though that was an accident, $19.59 wholesale
2009 Chateau Clos Mannou 1850 (Medoc), not for sale, just for tasting, assume $85 wholesale
2007 Chateau Rieussec (Sauternes), $89.95 wholesale
Next stop was at a wine wholesaler who is going out of business (as evidenced by the eviction notice on the front door). But first I have to get through a traffic back-up: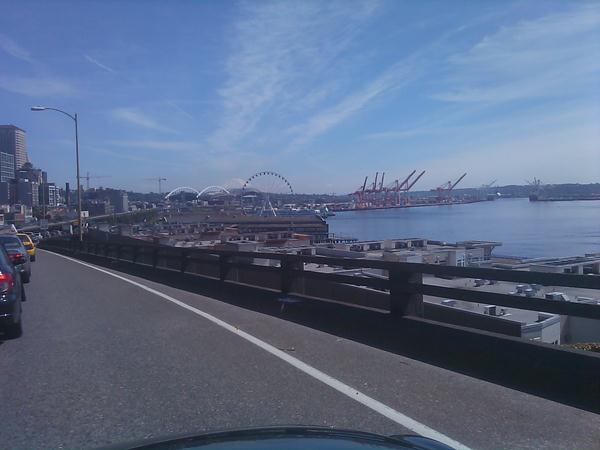 Objects of interest:
Century Link Field (i.e. the Clink) is the two white arches
The white blob to the right of those is Mt. Rainier
Continuing to the right is Seattle's new waterfront Ferris Wheel – think London Eye
After battling traffic I just headed home for a nap – the wine (6 cases squeezed into the Miata) can wait until tomorrow.
Salsa marinated flap steak with salad for dinner, accompanied by the 2007 Sodovino Lewis Vineyards Syrah. Yum.
Spent the evening trying to figure out a holiday trip for Bliss and I. Was thinking the train from Vancouver – Edmonton then flying home (late August) but that's when he is recovering from surgery. Next thought is Coast Starlight in a sleep from Seattle to Emeryville to see Mark and Onyx, then flying home. That could be early July or late July ($400 per person). Looked at WorldMark stuff but finding even two nights together in a two bedroom place anywhere drivable is just not possible.
Will keep checking.
[212.5]