Made the kids (the Global Freeloaders) breakfast this morning. Luckily they are meat eaters (unlike her mother, who is a raw food vegan), then off they went to explore the city (Pike Place Market, etc.) while I started working on the timeshare.studio403.com website to hawk all the timeshares that The Colonels are tired of. 50/50 split of any of the sales, so that's some motivation for me right there.
Well, I figured out a use for the rolley cart thing – use it for what it was designed for, a computer stand. Solved two problems – how to clean up enough space in the office for the kids to sleep and how to get them internet access while they are staying here without using one of my production computers.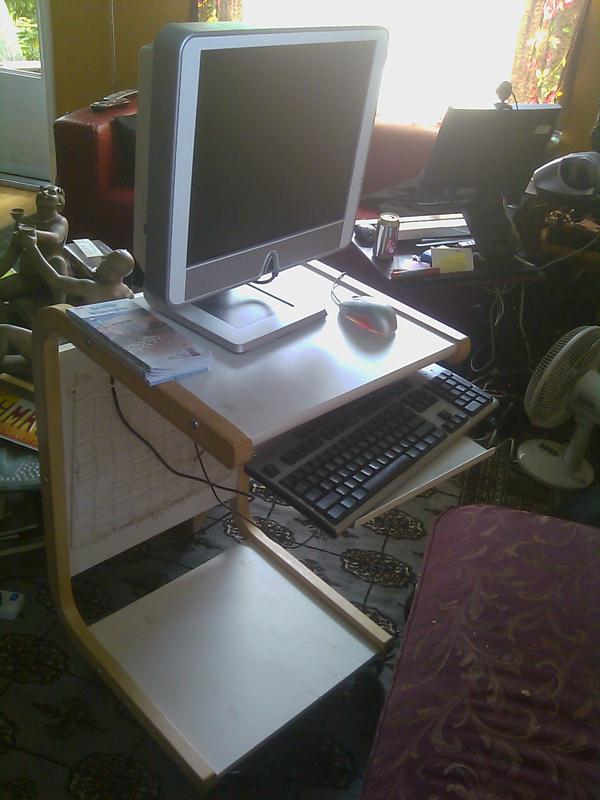 This is the All-In-One computer that is running Windows 8, which I still have to become comfortable with the new interface. Me thinks it will be a hard sell for Microsoft on anything other than touchscreens. Interface looks like a giant cellphone screen.
Before heading to the tasting made a loaf of bread to go with dinner. Invited the Freeloaders for BBQ tonight.
Tonight's wine tasting is from Barrique Imports and features some really nice appetizers supplied by the importer. A huge surge of a crowd a little before six and then not much. I left at 7 to come home and cook, Jim stayed until 7:30 when he closed up.
Nice dinner with the kids but I think two nights is enough. Luckily they are headed to Olympia tomorrow.
[211.2]