Opened the shop this morning… slow day until the tasting, but by the time I left we still hadn't broken into the four figures we usually see on a Saturday. Could have been the competition with the Fremont Solstice Parade complete with the annual naked bike riders.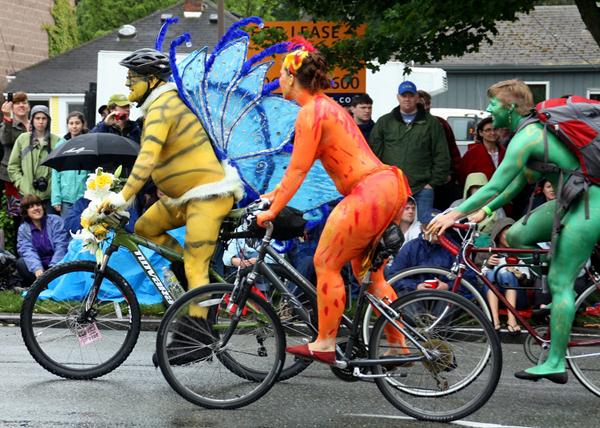 Fremont Summer Solstice Parade | Photo by Teresa C.
And for those following my saga of the Wall Street Journal delivery… two weeks later and they are still delivering the paper. Odd, but nice.
After work headed to dinner with DancingBear, Possum & BreticusMaximus of wonderful leftovers, eaten mostly in the drizzle of a true June evening. Seems like we had summer in May, and now, nothing.
The weirdness began when I tried to get home – on the way to DancingBear's place noticed that I-5 Southbound was totally backed up, so headed on via Highway 99 only to find it closed from the Battery Street Tunnel to the West Seattle Freeway. Ouch. Add Solstice traffic half way between DB's and my place and you have a mess of a traffic snarl even on the side streets.
End result? Almost an hour to get home for what should be a 25-30 minute trip.
Productive evening with finishing up The Colonels Timeshare Sales website – complete with the form for expressing interest in one, two, three or all the properties (discounts for multiple purchases). Check it out at http:timeshare.studio403.com.
[213.1]