The sun is out which puts me in the yard weed whacking. The grass is still too damp to mow, but at least I can get the edging done.
3pm finds me off on an errand run…
Cash and Carry for paper sacks in advance of the July 1 plastic bag ban
Jim's to drop off USB mouse, coupon and pick up capsules (that plastic heat shrink wrapper at the top of wine bottles – use for finishing wine bottles that have been refilled with bourbon)
Shop to install external speakers on computer so we can get a better feed on KPLU HD-2, their all-music channel
Then off to dinner with Swanda. As I said, the sun is coming out: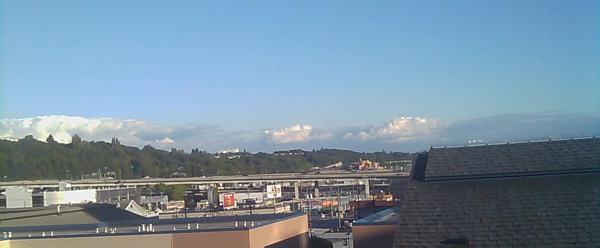 Too bad the sliver view of Mount Rainier is behind the clouds.
But you can see all of dinner in this shot: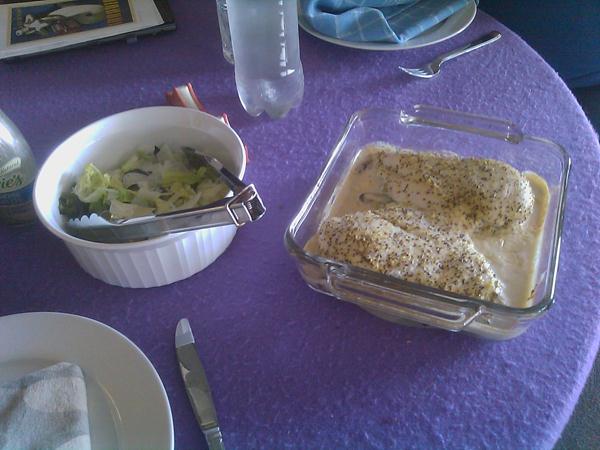 Salad on the left, on the right is a one-dish meal. Large asparagus on the bottom, smothered in Alfredo Sauce with two large chicken breast (with lemon pepper seasoning) placed on top. 45 minutes at 350 degrees and the chicken comes out totally moist from all the steam rising from the Alfredo Sauce – next time I would do the last 10 minutes under the broiler to brown the chicken more (Swanda's suggestion).
Two boys from Portland came by before dinner (while it was in the oven) for a bit but no cocktails since they were driving.
Me, I was home around 8.
[215.1] Ouch.