Slept in until 10 which isn't actually good since we need to leave for the airport at 11-11:30 for last night's houseguests flight who leave 30 minutes before us. Only one run for the airport for three folks flying out. Not bad.
I got upgraded to First (1C) and by putting Bliss's reservation on my profile I got him moved to seat 6C from 21D – much quicker off the plane at the other end.
Had lunch at the airport, and then I had a snack of very dry chicken (had one slice) and some orzo. The Cobb Salad at Chili's for lunch was much better, but still too big in the portion department. We both ended up having salads.
Flights on time, light-rail to the apartment, strap everything to the car, take Bliss home and then head to Swanda's for dinner. And dinner was: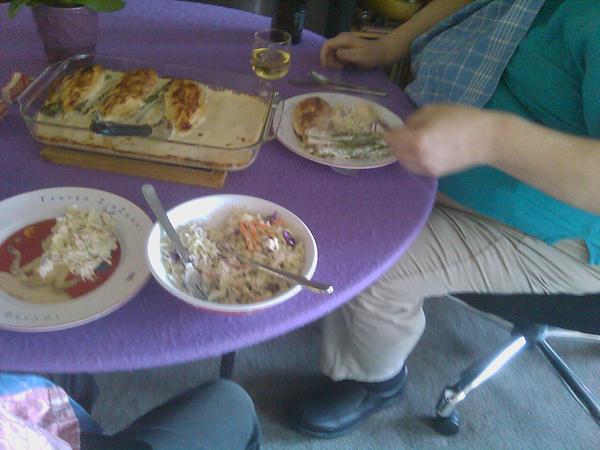 A meal that has turned into one of Swanda's staples for dinner (and FYI, the only thing I did was put it in the oven and take it out, all the prep work was Swanda) which is asparagus floating in Alfredo Sauce with some chicken breast on the top. Cook for 50 minutes, turn it up to broil for the last ten minutes. Oh, and Cole Slaw.
And for those following the Swanda health news, he is healthy enough to be picking up a timeshare from the Colonels, and is now down to 447 (if I remember correctly). He is driving, oxygen is about to be returned, he is back to going to the office for a few hours, and I think it's about the end of the walker as he only uses it half-time.
Stopped by Stacey's Funky Finds on 4th Avenue – and had an odd experience. I inquired about the price of two items which she promptly said, "Oh take them, I'm trying to clean out this section." The items:
12×36 jigsaw puzzle of the Oregon Coast for Swanda or his mother
45rpm of an early 80's QuarterFlash (think QuarterFlash in the pan)
On the way out stumbled across this interesting OPEN sign and inquired about the price and she said, "I'm not ready to part with that yet since I use it, but you are welcome to borrow it." I'd given her my card previously and invited her to the wine tastings on Saturday, but the offer to "borrow" the sign for a while struck me as odd as the gifts of the other two items. I guess there are some advantages to stopping in every couple of weeks to see what she has.
The rest of the evening trying to unpack and not getting far.
[213.5]