Saturday at the shop… well, when I arrived at 1:30 since I'm closing today.
A good tasting of four Gilbert Cellars products. The daughter of the vineyard owner was our rep for this tasting. Wish I had her job – road warrior meeting with all the distributors around the country to plug the wine. Her advantage is that her last name is Gilbert.
Or maybe it's the time to take South Seattle's Wine Marketing Certificate program… or just hit the road.
Looks like I will be taking Gilbert Cellars up on their private barrel tasting at their production facility (rather than their public tasting room in downtown Yakima). Looks like Wednesday, but just in case I've booked a motel in Yakima for Wednesday night if it has to be Thursday. What a nice add-on to my couple of days camping at American Ridge.
Here's what the trip is looking like: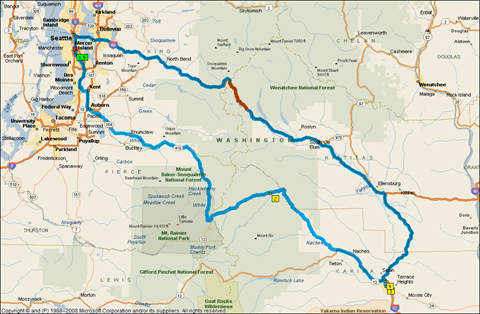 Leaving Monday mid-day, coming back Thursday sometime as I have to work on Friday.
Broke into the low four digits for sales today. Lots of cold bottles of rosè and whites leaving the refrigerator with the 80 degree day.
Home for a dinner not unlike last nights with Swanda. But with the 7pm close that means dinner at 9.
Unpacking and doing laundry… in preparation of packing tomorrow night.
[212.1]