Broke camp at 10 this morning with Magnatrocia in tow. We are "convoying" from camp to cellars. He is along for the ride (and he has GPS) as we decamp from American Ridge to Yakima.
First stop is Whistling Jacks for breakfast. Not much on the menu that is carb-free friendly, but the omelet of bacon, spinach and feta with a hollandaise sauce is OK, except for the rye toast and hash browns. The toast didn't get much action, but I'm afraid that the house-made hash browns fell off the plate and landed in my stomach. It's hard to keep to a low-carb diet on the road in the land of temptation.
The first winery of the day is Southard, where we are meeting up with Scott Southard, the winemaker: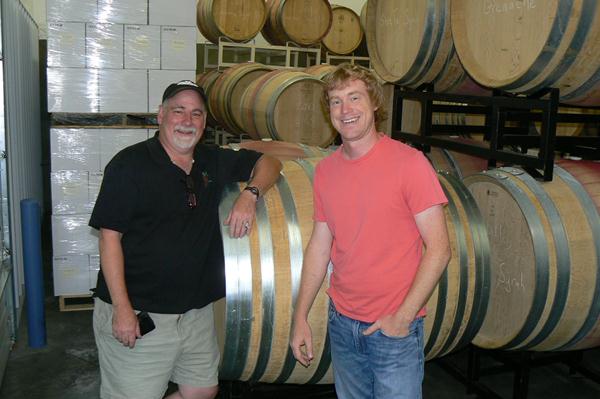 We carry Scott's "Columbia Valley White" which is a big-bodied Rhône style white blend of 65% Viognier and 35% Rousanne. He sources all his grapes from off property with the exception of the Riesling which grows on the estate.
After tasting a hand-full of wines that had been open for a day or two, he popped open a couple of his Syrahs to try – tasty, but even the "tired" (his phrase) bottles open for a day or two were tasting good.
Over some more hills and dales to get to Yakima and check into the "Honeymoon Suite" at the Days Inn. On the website it was listed as a one-bedroom suite, but on the fire escape exit plan on the door it was labeled "Honeymoon Suite". Trust me, the Days Inn in Yakima is not where you want to spend your honeymoon. They are in the middle of remodeling and it looked like our room had been done, but the air-conditioner in the bedroom wasn't cooling and the lower portion of the fridge seemed a little warm, but it's one night and it was $68 for a large suite with a hide-a-bed couch in the living room for Mags to sleep on.
A light lunch was had at a taco shack, another load of carbs from the tortillas. Damn.
Next winery up is Gilbert Cellars. I shared a bottle of their rosé with Solus+ last night since they share a common surname. Here I am with Justin Neufeld, their winemaker: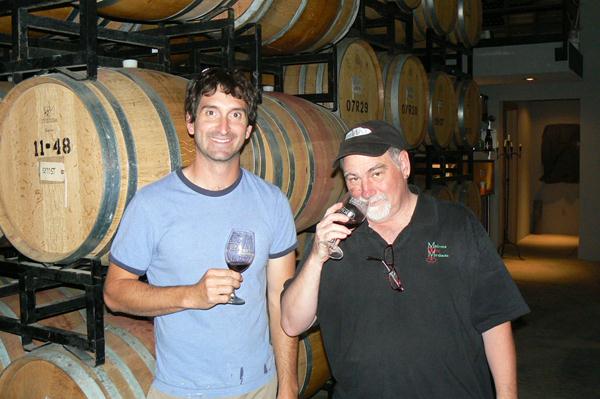 They had just finished a bottling run (which is a mostly mechanical process), but he still had enough energy to take us down into the cave to barrel sample half a dozen of his 2011 wines, including a Tempranillo-based Port that he is working on. Really fun to taste young wines like his Chardonnay that was still cloudy.
Justin recommended that we stop by Treveri Cellars to try their sparkling wines. We tried seven or eight of their sparklers, my favorite (of which I bought a bottle) was their Mueller-Thurgau-based sparkler. If Jim and I can ever find an evening to get together for dinner, I'll bring that along with the 2006 Recess Red from L-Ecole that I picked up in Kansas City months ago.
In need of shorts to take advantage of the swimming pool at the motel, Sarah at Treveri pointed us in the direction of the Goodwill. Here is my $3.99 bargain priced Ralph Loren madras find. It also helped cool the room down while I was trying to dry them after the swim: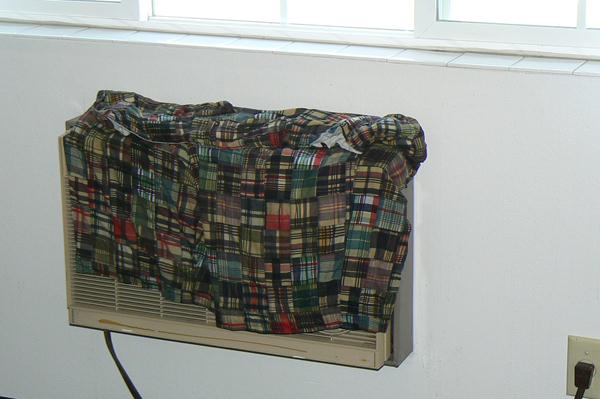 Yep, a real madras (little stitched squares).
Dinner at Bob's Keg and Cork downtown. Small place (49 people max), good food, but oddly served on thick paper plates. Yes, I had the burger, more carbs, but at least I went for the salad rather than the fries. And super cheap – cheap enough that Mags picked up the whole tab, something he is not known to do.
[? ? ?]