Having looked at the map, I've located a couple of more wineries that the shop carries (Milbrandt and Airfield Estates). Prosser is a 50 minute drive east from Yakima which had me arriving at a little after ten after not having a real map and just wandering around Prosser.
Airfield Estates didn't open until 11 so it was Milbrandt first. I was surprised that there was a tasting fee for folks in the trade (but they did discount it), but it did give me access to more than just the standard five as long as they were open. They've gotten so big and are available everywhere, which is why we don't stock them anymore. With only 400 facing bottles, you have to pick and choose carefully. Their wine is good, just not unique enough for us.
I still had fifteen minutes before Airfield Estates opened so I just hung around in the shade: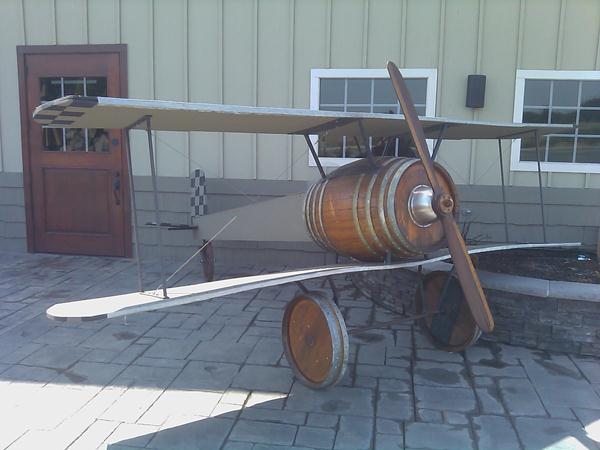 And then a funny thing happened… doors opened and I'm greeted my Mike Miller, the grape grower and owner of Airfield Estates: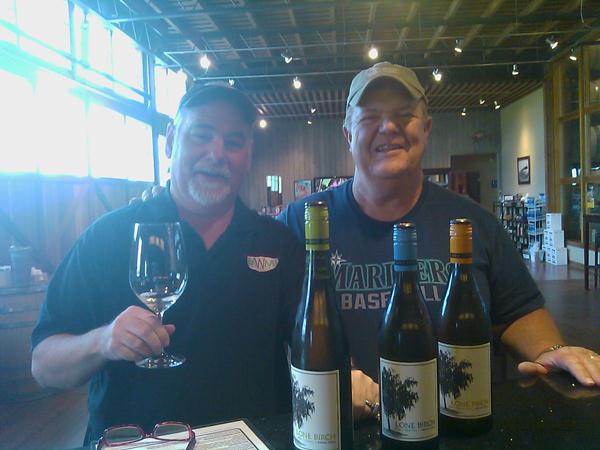 This visit I hadn't set up in advance so it was an unexpected pleasure to have him give up 45 minutes of his day to talk about his wines, including his secondary label Lone Birch. His son is the winemaker (Marcus) who I briefly met (he was in the middle of wine experiments). Funny that all the winemaker's I've met this trip have been men in their 30's. And attractive.
By noon I was headed back to Seattle with the top up because it was already in the upper 90's. I didn't put the top back down until I was in Cle Elum for gas.
Home, dump the stuff, put away the stuff in the cooler than off to Safeway for dinner fixings.
Had just gotten home with Drew stopped by on his way home from work for a cocktail – that pushed my dinner out until 8, but it was good so see him. Hopefully he will make it a regular event.
Off to bed as tomorrow is my once a month Friday workday.
[? ? ?]