Slow day at the shop. It gave me time to standardize all the Ch. into Château on the wine cards (and finish Popular Mechanics and Out Magazine's Olympics issue which I'll pass onto Swanda). I would have rather been selling wine.
Swung by Safeway for staples (toilet paper, dish detergent, laundry detergent) and a couple of steaks, one for the freezer, one for tonight.
Got bored watching TV and ended up booking a 2-bedroom presidential unit at the WorldMark Victoria – a rarity to find it available, and only for one night. Now whether to use my 50% off letter or 15,000 miles and fly up on Kenmore Air. Decisions, decisions.
Speaking of WorldMark reservations, tonight is the deadline to decide whether I'm keeping the two nights in a two bedroom at Whistler/Creekside. That decision = yes.
And today's humor shot… all the wine boxes in my personal recycling: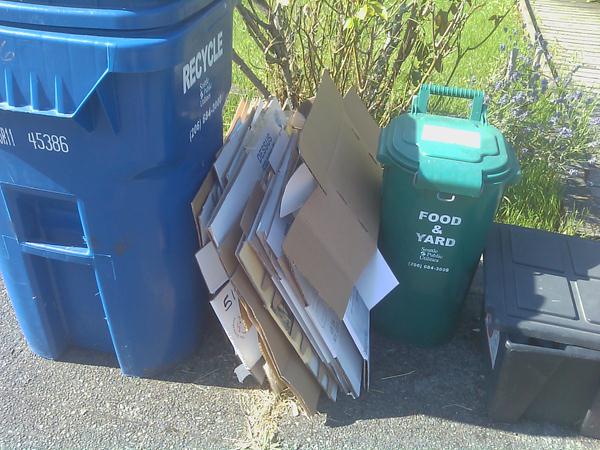 Errands and ZAP (Zinfandel Aficionados and Producers) Tasting tomorrow at WinoWorld – I haven't been there since they expanded and now stock liquor.
[212.0]