No sleeping in this morning – must pack up this mess (and clean up from last night). I preloaded the briefcase and the talent show outfit so that meant two less things to worry about. Breakfast was a little cheese and beef jerky.
Here is the final shot from the gathering – the middle of the soaking pools on the hillside: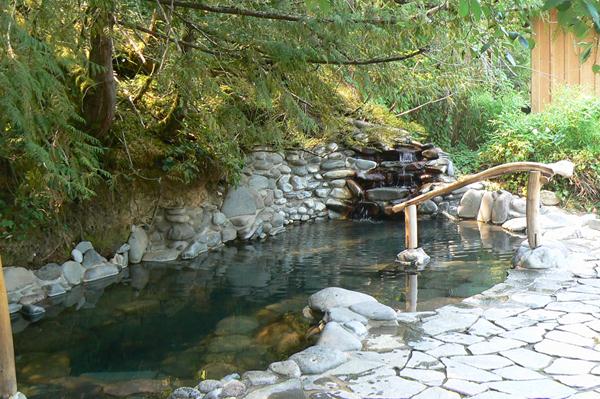 By 1:15 I was in Portland at Julian's place just off Lombard. The plan is for lunch. After striking out at Fishwife, and then the Hawaiian BBQ shack (both closed), it was off to the St. Johns Theatre and Pub (one of the McMenamins venues). I had a lovely spicy pork burger and a side salad, Julian, there classic wonderful Rueben.
Not much time to hang, other than lunch as JoeFico is coming to dinner tonight in Seattle. Funny thing is that he is in Portland now, so we will both be driving up I-5 around the same time – a trip that turned ugly with messy traffic in Chehalis, Nisqually Delta and Tacoma. Add one hour to the trip.
By the time we were both at the house, it meant that the steaks didn't come off the grill until 8pm – but well worth the wait as they were basically bone-in prime rib.
It's been awhile since Joe visited – he is on a Tucson, Chicago, Seattle, Ontario, Tucson tour to use of some vacation time which he timed to quit after he goes back to work for a week – he starts a new after that. Always nice to have a job waiting when you quit one. Maybe I should learn from him.
[? ? ?] Back on the scale tomorrow.