It's always fun to wake up with a straight man in your bed. Whenever we visit each other we always sleep in the same bed which the last time I was in Tucson, led to three of us in bed: girlfriend, Joe, then me. There is no sex, just some cuddling before falling to sleep.
First up on the agenda for the two of us to go to a Champagne and new Italian wines at C&G – Joe will go as Madrona Wine Merchants new intern. Apparently he didn't make the cut as by the end of the day, he was no longer our intern.
Next up was packages at the apartment, then to pick up wine at the shop for dinner, back to the hood for a carwash (very dusty from the woods) and a grocery run before heading (after dropping off the wine and groceries) to Dragonfish Asian Café so Joe could hook up with a couple of gay guys from his college day (honest, Joe is straight – trust me, I've tried [repeatedly] and failed).
Nice appetizers – I had the tempura peppered bacon and some chicken pot stickers – Joe started with an avocado roll and then to the tempura peppered bacon. It being happy hour those small plates were like $2.95 and $3.95 – and for $2.95 you could get four of their normally $7 cold sakés that counted towards their Saké Club – drink the first 9 (over the course of a year), get a cedar sake box and a 5 appetizer card – finish the next 8 and get a t-shirt and a chance at dinner for two. Go on a Sunday night and all sakés are 50% off. So far I have five punches (four in the first section, one in the second).
A couple of hours later we were home and working to diagnosing the problems with the dining platform. At least I'm getting closer to getting it running again. Still more to do, but at least I can get to the batteries without having to move the entire lift.
Another late dinner, supplemented by Joe making blackberry martinis (macerated blackberries with a little sugar and either vodka or light rum). And we were so full from the appetizers that we just used the leftover steak over a bed of greens. And a nice rosé.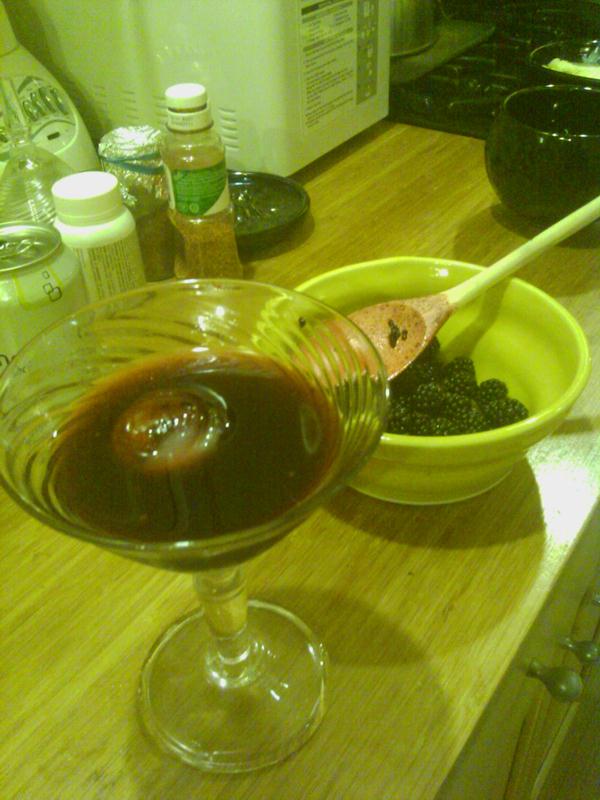 Of course Swanda learned of the blackberries and now wants some to make his own martinis.
[209.0]