Today the boys are out and about:
Fremont Troll
Pike Place Market
Archtectural Tour
Ferry Ride To Braindamage Island
While I stay home and prep the still by:
Washing with hot soapy water all three pieces
Assembling the pieces (shown here with teflon tape to keep steam from escaping)

Fire it up on the stove and run a 50/50 mixture of vinegar and water (no need for the water bath)

Run a first "sacrifical" batch through the still (two bottles of white wine that had gone off)
Of course, many things needed to change from the photo above.
The cooling water heated up to quick so I had to shut down the run and insert a trickling water hose
The wind kicked up and I had to surround the burner with aluminum foil (will try Jim's electric lab burner tomorrow)
But the end result for the afternoon is this: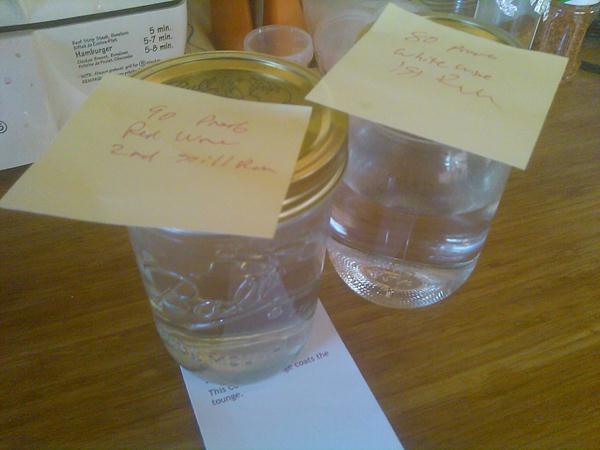 Sacrificial run (two bottles run though the still) came in at 80%, the run of red (3 bottles run through the still yielding 400ml, that was 40% Syrah, 40% Carignan, 20% Merlot) came in at 90 proof and I'm hoping with the electric burner, while it will take longer to get to temp that I'll be able to set it at 80 degrees Centigrade and get a higher proof.
I was all done by the boys arrived a little before six and Bliss a little after six.
Dinner was jerked lamb on the BBQ with a big salad and asparagus in alfredo sauce. Yum.
[207.1]