The alarm went off at 7am. The CouchSurfer wants to be on the road by 9am and that's the amount of time it takes for me to get coffee on, check mail, check the news, get breakfast made. He has about a twelve hour drive to Great Falls, Montana which will put him half the way back home.
As for me, I went back to bed for a nap before getting up, getting packed and on the road myself by a little after noon.
Destination? The Longhouse Gathering – which runs until Monday but I'll just be there for Friday night since work is Saturday and Sunday. I suppose I could go out after work on Sunday but that would mean setting up camp twice.
Today's picture – sitting around the registration table having cocktails and appetizers: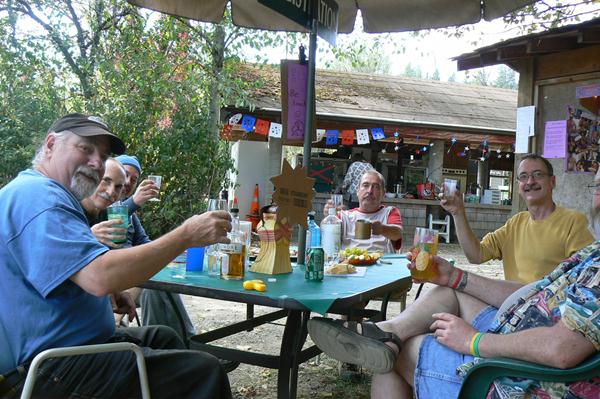 Unlike the Breitenbush Gathering, this is all "self-catered". The building behind us it the cook shack. The other difference is this is like $10-20 a day as opposed to Breitenbush which is $350 for 5 days/4nights.
Much late night revelry, much interest in the two Grappas that I brought out.
Damn – I forgot a pillow.
[206.6]