California, here I come, but must it be so bloody early. Yes is the answer. 5:30 out of bed, 6:15 out the door, 7:30 at the airport after dropping car at apartment, 9:30am flight. Gives me time to have a carb-laden breakfast in the Board Room. It's really hard to be low-carb on the road. I fear I'll pay for it in pounds upon my return – and we aren't talking the currency.
Horizon flight to PDX: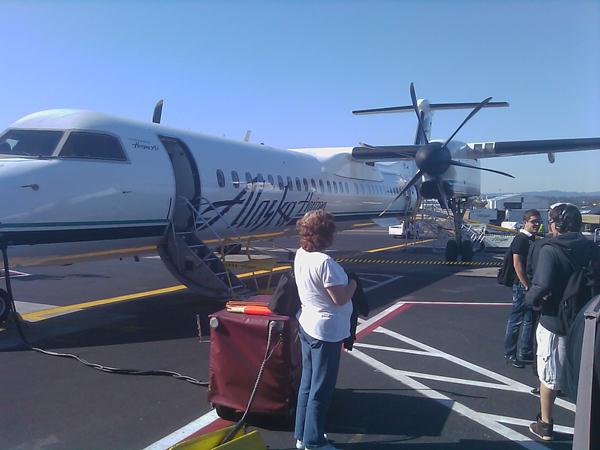 Then onto SAN in a 737-800. No upgrade since I'm flying on miles, but at least the center seat was open in a very full plane.
$17.00 in cab fare later I'm at the WorldMark San Diego in a nice/large studio on the 4th floor. I should have taken public transit since it's just a couple of blocks from the City College metro stop. Next time.
Speaking of time, enough time for a nap and to work on the Premium items to replace a couple of dupes and add six more items. I worry that we aren't going to have enough time to print this beast in time for the event on Saturday night. We still don't even have a final page count since I haven't done the back matter yet. Oy!
Luckily Debbie, a high-school friend that I'd totally forgotten about until she tracked me down on FaceBook, was running late which gave me a little more work time after a much needed nap.
I'd picked up a bottle of wine for us, and grabbed a half pint of Jamesons when she stop for beer for her son – it seems that it's going to be a family dinner with her two kids, daughter's boyfriend and daughter's daughter. A packed house with the couple of cats, couple of dogs, couple of birds – but she is looking happier than I've seen her on previous visits. The kid's had dinner prepped and out of the oven by the time we arrived. Frankly, I had a lot more fun than I was expecting, and she does have a great view of the valley considering the social-economics of the neighborhood.
Back at the condo later, it was back to work. Damn catalog.
[208.2]