Finished the Premium Items for the catalog this morning… too bad I had to shut down before all the files had synced up so Wonderful could proofread them. Will have to wait for LAX.
Left the condo at 10:30 for what I thought was going to be a noon train. Turns out it is 1:40 – giving me time to pick up something for breakfast/lunch. Got to the station around 11, found the train, then went off in search of food. A spicy chicken wrap – too bad I didn't see the anti-pasta salad before I ordered. More carbs.
Supposedly there are going to be 15-20 people on this deadhead run back to Los Angeles. Luckily I'm not the youngest (my fear), but let me say that the passengers were heavily weighted towards older than younger – though there was one hot 20 something train geek with his own train radio.
Some highlight shots: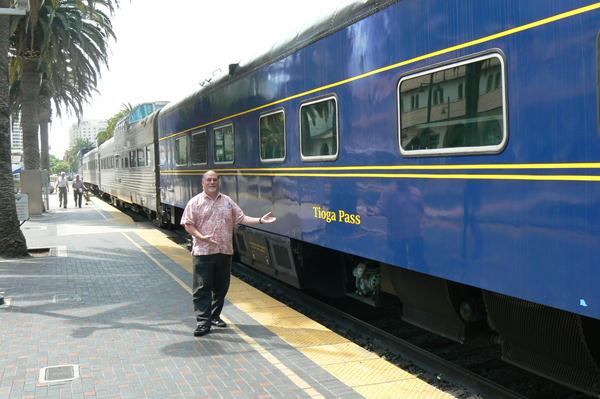 The Tioga Pass is the "Business Car" that I'm booked on. Behind that is Silver Splendor "Dome Diner Lounge" and bringing up the rear (mostly out of sight) is the Overland Trail "Lounge" car.
Here is the living room area of the Tioga Pass: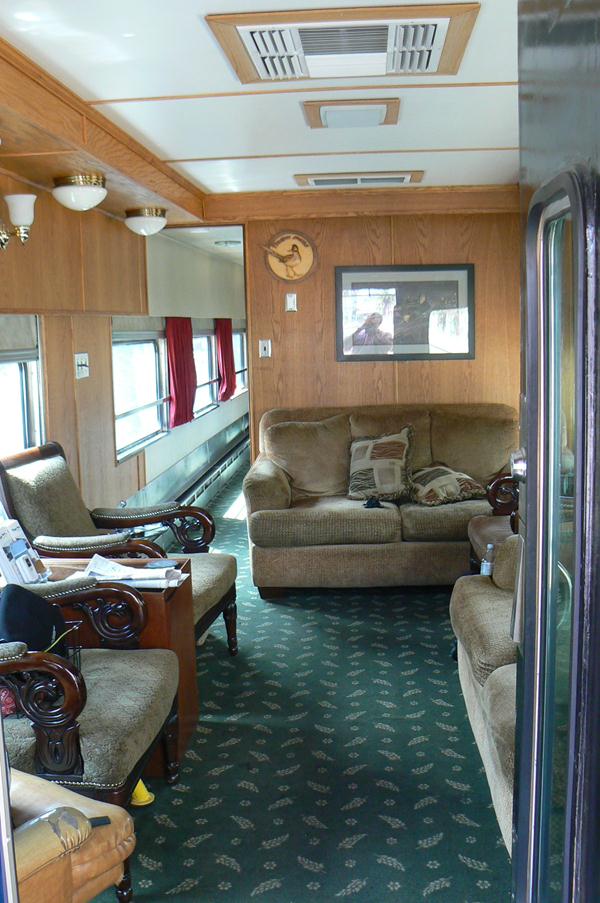 Not a bad way to travel.
Here is our three cars hooked up (backwards) to the Amtrak train – yes, the platform will be getting A LOT of wind, but for $50 including snacks and cocktails, I'm not complaining.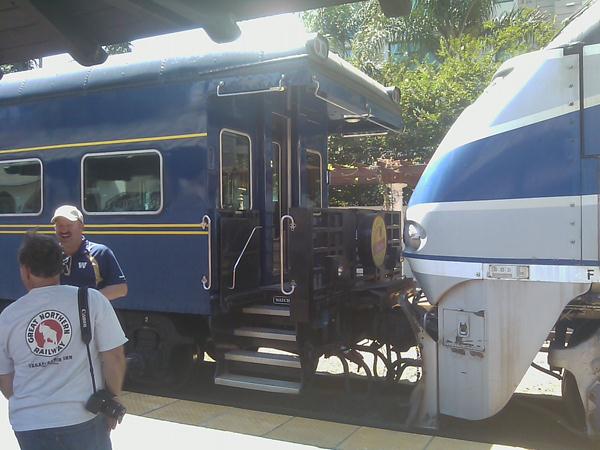 Yes, the Amtrak train will be going all the way in reverse – I'm sure it will amuse passersby's along the way.
And now for the moment you've all been waiting for – video of doing 90mph hanging on to the silver grab bar (above), wind buffeting everyone:
Here is a link to all the photos and videos (at least while it works):
I was at the airport a little after 5 to get files synced up, deal with mail and negotiate a seat on the 7:30 (rather than the 9:10 I was scheduled on which would have made me miss the last lightrail I believe, or the 8:30 which was also available).
Made dinner of a couple of plates of salad, some meatballs and a couple of drinks – at least no carbs in dinner tonight.
It was 11:15pm by the time I arrived home – to continue working on the catalog project until 1:30am when I finally collapsed.
[? ? ?]