Funny how my odd act of patriotism is to fly in September 11th. Today I'm off to Denver to see Dan and Lisa – turns out it's been almost a year since I've seen them. Too long.
Maybe that's why I have this huge pile of luggage for three days…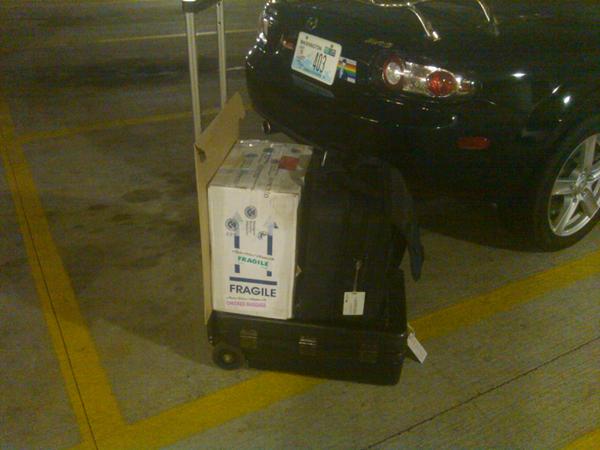 That would be one roller bag (the one that transforms itself into a hand truck), a 6-bottle wine carrier (one grappa, 2 reds, 1 white, 1 rosé, 2 toasted sesame oil), my computer bag and flat carrier for two prints I'm taking them. I'd forgotten how handy that Porter Case (the transformer) is – might have to go back to using it more often.
Got to the airport way early using light rail and the Porter performed pleasingly. For the second time, I got to use the Pre line – which was open even though the First Class/Gold lines weren't open. How nice to just stroll up to the conveyor belt with no one in front of you, and just take off your ring/phone/keys and proceed through the scanner (and not the full body scanner).
Plane was on-time, though I got a bit of a jolt getting on the plane – they'd moved me from 1D (my preferred seat) to 3D – at least it's an aisle, but the food/beverage service is slower. Oh well, it's still a free First Class seat.
Arriving at the far end of the A terminal, it's about a 20 minute walk to the baggage claim, which started a little after I got there… but not quick enough for Dan and Lisa who were circling like sharks waiting for bait (that would be me).
A nice evening of conversation and whiskey before bedtime called.
[207.7]