You wouldn't think at 10:40 flight would require getting up at 5:30 (after going to bed at 2am), but once you add driving to the apartment, light rail to the airport, getting there early… it all adds up.
Plenty of time at the airport for breakfast. Still didn't get upgraded, I missed it by 1 person – which is odd because I have already been upgraded for the return flight and when I landed they were selling upgrades for the return leg to Seattle (the plane lands, dumps people, gets serviced, adds people, returns to Seattle).
Out for drinks before dinner at a speakeasy located under the Reiger Hotel Grill and Exhange restaurant. The speakeasy is called Manifesto.
I started out with the Smokin' Choke which is applewood smoked Four Roses Bourbon, Cynar, Maple Syrup and Peychaud's Bitters, then followed up with the KC Streetcar which is Olver Overholt Rye, Lemon, Pierre Ferrand Dry Curacao, smoked bitts and Boulevard Wheat Ale. Both were outstanding, but at $11 each, a little pricey.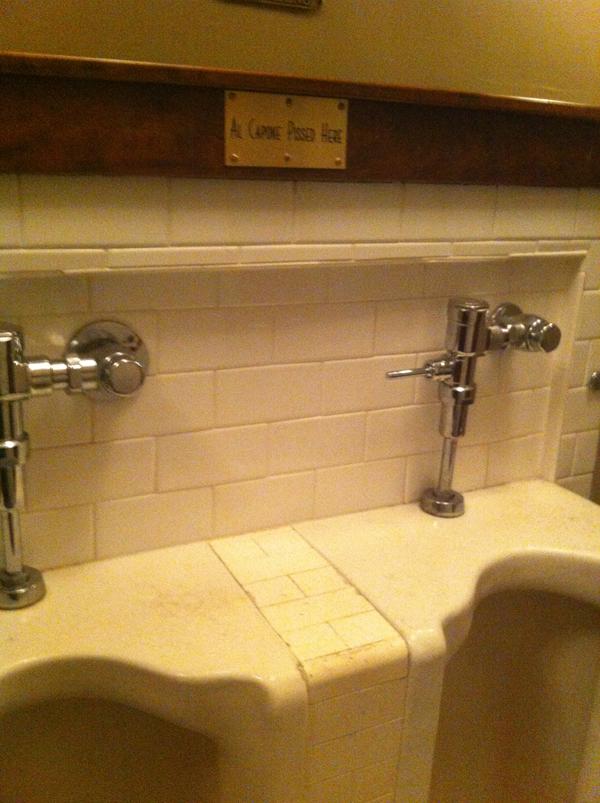 The plaque reads: "Al Capone Pissed Here"
At 7:30 we headed upstairs to the restaurant where I was having a devil of a time deciding between the rabbit and the goat for my main course. The goat finally won out but it was a close call, decided ultimately by our server.
After that it was home and to bed for Paul and Gail, whereas I stayed up a little later.
[208.6]