Up and out of the house one time at 9:15 for a 10:15 BoltBus to Vancouver – the cost for the two of us to get to Vancouver… $13. Not bad.
CaddyDaddy and I on the BoltBus getting ready for the 3 hour trip to Vancouver.
Got to the condo at 1:30 or so, and of course the room wasn't ready so it was drop the bags and go out to lunch and do the grocery shopping for dinner. Hummingbird met up with us at the restaurant and wentshopping with us. Room still not ready upon our return, and Hummingbird wasn't feeling the best so he picked up his presents and package in the game room at The Canadian.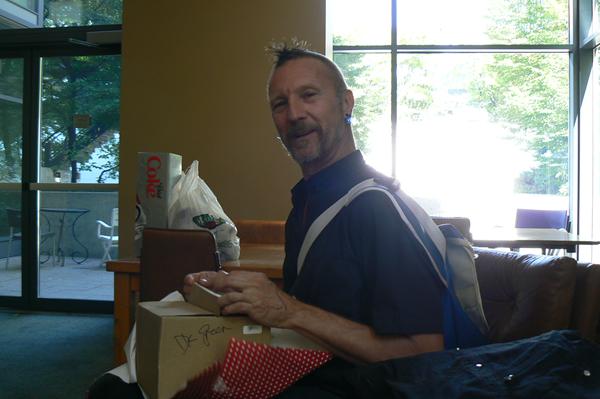 At 3:30 the condo was ready and Epick and Aaron were waiting for usat the door when we got to the 22nd floor. Apparently they were right behind me coming into the lobby as I was leaving.
So they showed up early, Helene showed up late, Solus+ showed up late, dinner was ready at 7 which by that time it was just three of us for dinner, Solus+ left, Helene returned and I woke up at 2am on the couch.
I must be on vacation.
[206.9]