Before I start on about our butt-early departure from Seattle and a little miscommunication on my part between Swanda and I, I found this great picture from the cruise that didn't make it into any of the cruise posts, foolish me: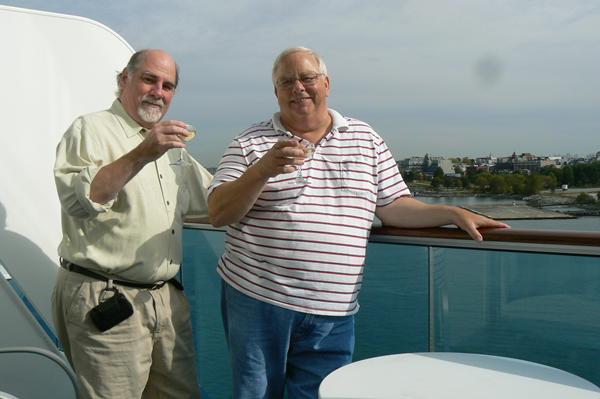 This is a shot with our complimentary send-off champagne – I'm assuming this is only for the people in suites, or at least balcony units. Alvin (as in the Chipmunks), our steward, happily brings us a second round after the lifeboat drill.
But back to today…
Up at 5, ready to go at 5:45, panic at 5:50 when I call Swanda and he says "where are you" and I go, "where are you" – apparently he thought the ride to the airport was from his place, I from my place. Luckily he is a maniac on the road so we are at the airport at 6:15 for our 7:40 flight, which barely leaves time for a quick "eye-opener" and a couple of English muffins (yes, carbs) at the Board Room before emplaning to our exit row just across the aisle from each other seats. Coach is full, full, full, except for the middle seats in both exit rows, and CaddyDaddy and I are in the row that reclines.
Back to sleep for both of us after the first beverage course – since I'm MVP Gold, the first mini of liquor is on the house (or shall I say, plane). The Jack Daniels remained unopened and was zipped inside my headphone case for another day.
Hour and a half in LA – enough time to snag a cocktail and a couple of newspapers for the next leg, and three bottles from duty-free. The limit going into Mexico is two bottles per person so it was two bottles of whiskey and one of vodka (for bloody marys in the morning – a tradition with CaddyDaddy and I travel together). Rum, Mexican Brandy and some tequilas are cheap in Mexico, bourbon isn't.
Check-in feels more like a time-share presentation than I'd like, and apparently as an owner (THANKS COLONELS!) I've been spared worse, and the free margarita is welcome.
The main plan now is to get settled in, find ice. Machines on 5 and 3 – one labeled professionally, out of service, the one on three not labeled, but out of service – but on the other side of the elevator (next to the door to the desalinization plant (or maybe it's the generator for when the power goes out) is the underground entrance to the place – with a huge commercial size ice machine under lock and key – opened by someone the guard called over. Whew! Of course, there is no ice bucket in our room, but the blender body makes a fine temporary ice bucket – to supplement the two trays we just filled in the freezer.
After a cocktail in the room, it's off to explore thinks like the convenience store – very convenient, not much of a store, and then to scout for a place to have dinner that we can put on the room card… the answer is the rooftop restaurant in the complex which is a branch of the Baja Brewing Company, one of their three restaurants, the original being in San Jose del Cabo which is a long walking distance from the WorldMark Cabo San Lucas where we usually stay . They also have one in the Marina as well which looks a little swankier, but doesn't have nearly the view this one does.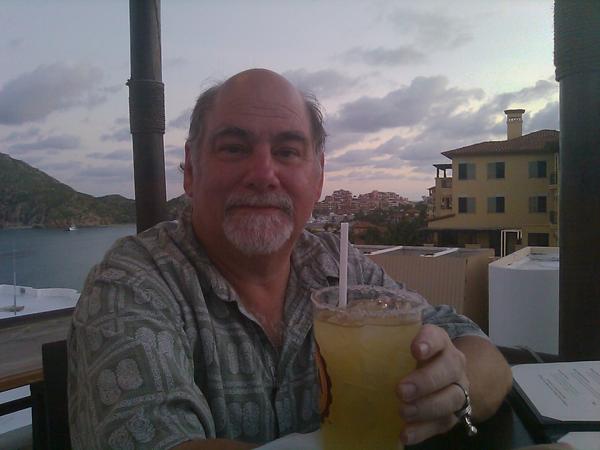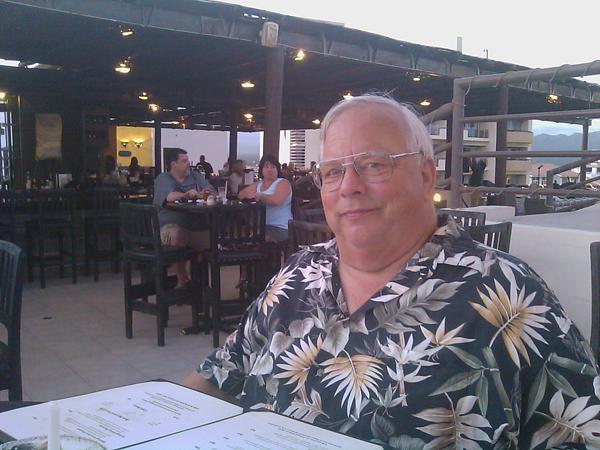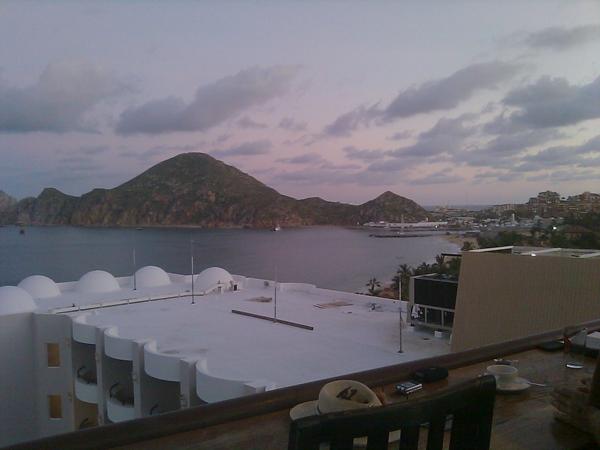 Rich had the Fish and Chips which was good, I had the Basil-Bleu burger (yes, more carbs) which was also good, but a little large. Music started at 8 with typical live cover band doing 60-70-80's hits. Downside was that the service was stretched thin even through the bar was less than half full – maybe I just haven't calmed down (I mean, gotten my Mexican legs) yet.
As for the description of our room and the resort (what I haven't already covered) I'll spare you until tomorrow when I'm more logical, more rested, and generally more in the Mexico mode.
[? ? ?] Maybe I'll sweat it all off.