The big item on today's schedule is the Owner Education (translate that to Owner Upsell) at 12:30 – and if that's the big event, you must be on vacation. There are other things going on as well but none with a specific time involved.
90 minutes of my life. Wish I'd known that it included lunch—I steered away from the carbs (though I did see a t-shirt emblazoned "Carboholic") and when for the beef fajitas, no tortillas, and a huge helping of salad, which I'm missing. So, 90 minutes of no sell/soft sell/hard sell, two margaritas (they don't do THAT at U.S. presentations), all for $40 (U.S.) food credit – which I learned is actually good at the two restaurants that aren't part of the $100 voucher program, which is handy because I was wondering how we were going to spend $140 at the bar – wait, what was I thinking.
So, they started out with the number (rounded) of $35,000, then took off the value of my current equity ($10,000 – thank you again, Colonels) for this new program that is 14 more flexible days. They are moving in the direction of the rest of the industry that can't sell a Saturday-Saturday plan – people want to travel on days when they can get the best airfare, and don't want to stay all seven days, or want ten days, etc. By the time I'd seen them all, the buy-in was down to $6000 (the original down payment was more than that) with the promise to buy the first year back for $1000 to put into the rental pool – still didn't go for it. At the moment my maintenance fees are $450 a year, and if you pay a month early, you get a $100 credit towards drinks. New program – no maintenance fees, just fees on the size unit you use for that year and if you don't use it you can put it back in the rental pool with a 60/40 split – ASSUMING they can actually rent the thing. Sounds more like an adjustable rate mortgage to me. I love how they were making the big deal of you have 24 more years of maintenance fees which would be $15,000 and you could SAVE money…. Forgetting to mention that you still have to pay for the weeks you use under the new plan – though you do get a choice of better units (for more money, of course).Needless to say, there wasn't the popping of a sparkling wine bottle for me (what they do in the sales room with all the prospects there – for a festive flair).
Got back from the "presentation" to find this scene in the bay outside our room: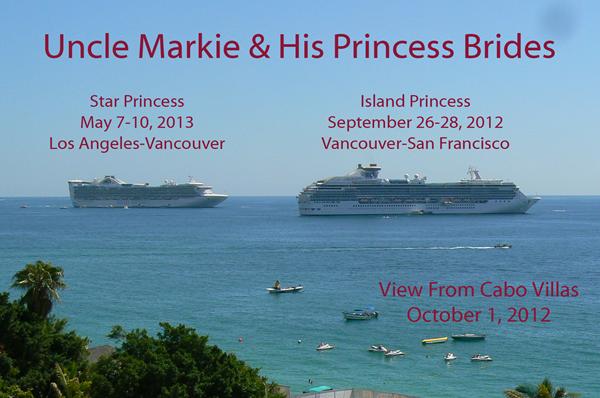 The boat we rode from Vancouver to San Francisco a couple of days ago, moored off-shore with the boat that CaddyDaddy and MANY other friends are taking next spring. We found these ridiculous $48-68 dollar inside single cabin fares – I know couples who booked two rooms since it was cheaper that getting the same room as a couple. Click on the photo for the link to the cruise itinerary. Too funny that both these boats are in the harbor while we are here.
Only other work during the day was working up a new on-line logo for the wine shop – I had two of my graphics friends complain about our logo and how it looked on-line. The problem with social media logos is that they are forced into a square box, and ours is much more of a rectangle (well, really, it's an oval). So here is the end result. Does it work?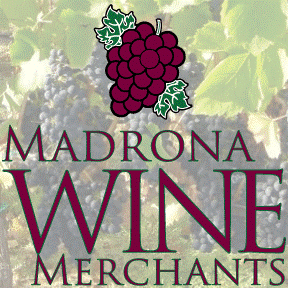 On FaceBook it will havea thin white border around it – much easier to read that the old logo one with extraneous type in it to fill space.
Used the $40 (U.S.) credit upstairs tonight for dinner at Baja Brewing – and no, it didn't cover the bill – and yes, it seems that their system for charging the balance to the room was down (as was last night's restaurant with the rude staff).
Ah, Mexico.
[? ? ?]