Managed to get Rich fed and both of us out the door by 10:15 this morning. Off to work I go.
A very slow day until the end when one customer picked up $250 in wine and another $500 – now THAT made the day, along with $150 or so in other sales. It was seriously dead from opening to 4pm – I'll blame the nice weather for that one.
The upside is that it gave me time to deal with the shit storm happening in Santa Fe with my parents. Trouble with meds, eating, drinking and a comment from my father to my sis-in-law saying I wish Mark would just come and pick up the car and get it out of my hair.
Well, that's what's going to happen. Leaving Tuesday for Santa Fe, spending two nights and then the next two days will be driving home. It sort of looks like this: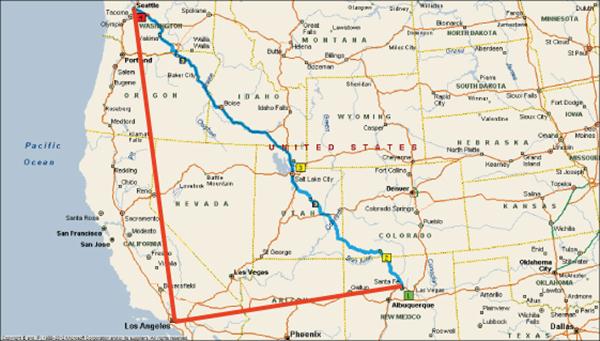 Managed to actually get a "saver" mileage award ticket two days before a flight for 25,000 miles and $35. I will use the return leg in December by flying to LAX, then taking the shuttle bus to the train station and boarding the overnight train to Santa Fe. Guess I'd better start working on that as well since the roomettes only go up in price the closer you get to travel dates.
Got a late afternoon call from Jim for a dinner invitation which is good since there aren't any groceries in my fridge. The Dindons (their winemaking club) crushed 500 pounds of cabernet sauvignon grapes today and needless to say, the wine was flowing at dinner.
A stop for eggs and slaw at Grocery Outlet, a swing by the bank to deposit four checks, and it was home for the evening.
[211.9] Considering before the cruise I was 206.9, after the cruise 209.3 – 5 pounds between two weeks on holiday, not bad.