With NJ (my father's sister, a.k.a. my aunt) playing food cop for my father, hopefully she can get more food into him so he can get some of his strength back. With the removal of the last hormone therapy because of bad side effects, it's the end of the medical end of his treatment. Now he moves onto hospice care (but at the apartment) and it's about quality of life, which hasn't been good for the last couple of weeks because of the nausea which means he doesn't eat and loses strength.
In a quiet moment with just the two of us, his comment was "I been having lots of bad days and I don't know if it's just the nausea and not eating or whether it's the cancer spreading through my body". I'm thinking 3-6 months tops. I'll be going back down in December for a couple of more days to use the return leg of my frequent flyer mileage round-trip ticket. Which reminds me, I need to book the flight to LA and the train to SAF.
When it came time to sign over the title it was painful to watch him struggle with the pen – maybe I should have had my mom sign it over since either of them could do it – the title shows that they licensed it with 23 miles on the odometer – definitely a one-owner little-old-lady (well, she ain't that little), garaged all its life sports car – remember, it could be yours for $5600.
After lunch in the dining room (I had the petite sirloin and a salad) with NJ and mom (dad too weak to come down), NJ and I went running errands: Walgreens, CVS for Ensure (and Evan Williams for me), and a couple of more stops to find a flower basket for the table outside their unit to bring a little color to the deck. That and a car wash which it really needed.
My mother's situation is a little better. One the way to the dining room she used to have to stop and rest by the elevator – but on our trip today she did it in one stretch so she is getting a little stronger because of the walking (which means she should do more!) Unfortunately with dad's weakness she has been having plates sent up rather than going down to the dining room since everybody is always coming up and asking how my dad is doing.
I left about 5 to head to the sis-in-law's place (that would be Jen) to do some prep work on the car. First order of business was to try and fix the electric antenna which got bent with mom backed into something. I didn't get it completely fixed, but it looks and works much better than it used to… only 4 or 5 inches of the mast remains sticking out when the radio is off – was twice that. Also did a little detailing since this will be my home for the next couple of days.
Here are some shots (sorry for the quality – cellphone shots):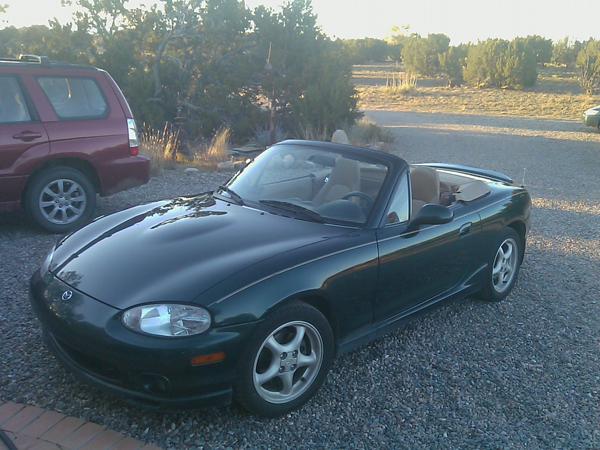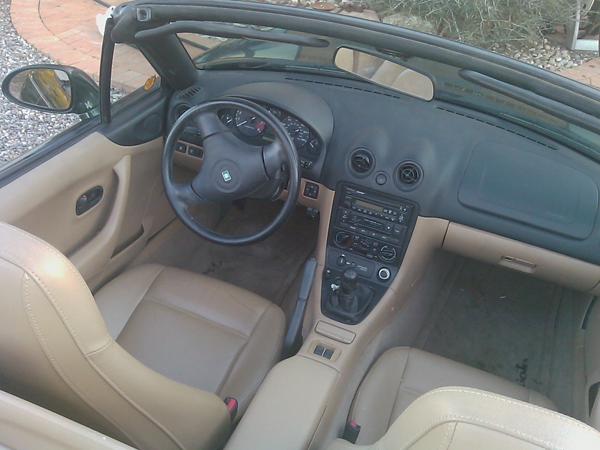 If I had a job, I'd probably just keep it for myself.
A lovely steak salad for dinner. This will be my last night in Santa Fe for tomorrow it's time to hit the road.
[? ? ?]