Steak and eggs for breakfast (I may be spoiling him for his regular diet) and we were out of the condo at 10:30 to drop him home.
I continued up the coast on 101 to Astoria, then across the top of Oregon on US 30, swinging over the bridge to Longview to connect back up with I-5. It's my preferred route as it has what I believe is the furthest north Burgerville – which makes a damn fine burger using peppered bacon and Tillamook cheese. They also have sweet potato fries and amazing milkshakes, both of which I passed on for the volume of carbs they both contain. And yes, I did eat the bun because they are so tasty.
Made it home a little after 2:30 and rushed around doing some necessary errands (to Jim's for meat for tomorrow BBQ sauce tasting at the shop, the apartment for package, the post office to mail some urgent documents) and then home to get a few more pictures of the car (my mother's Miata) that I need to sell as they only have one parking space at El Castillo (the "old folks" – their words, home) – that an my mother is going to fail her vision test next month and there goes the daylight only driver's license. At 85, it's time. At 89 my father's driving is even worse, even though his vision is better – it's time for him to stop as well. With El Castillo providing transportation to doctor's appointments, art events, grocery store runs – why drive.
So, here is the car: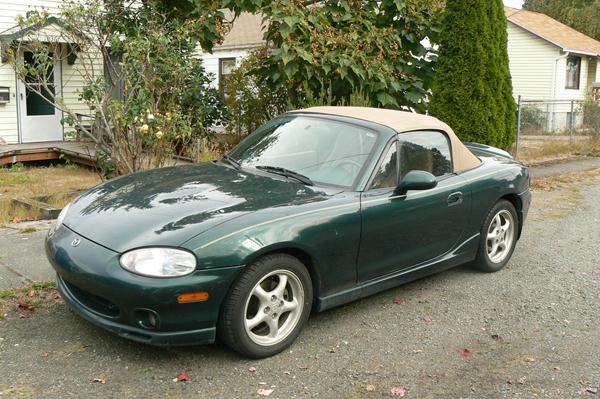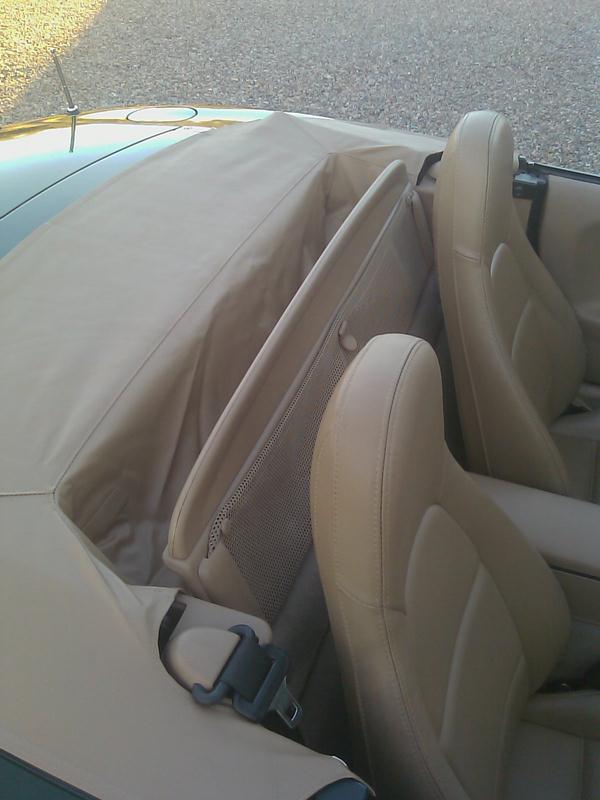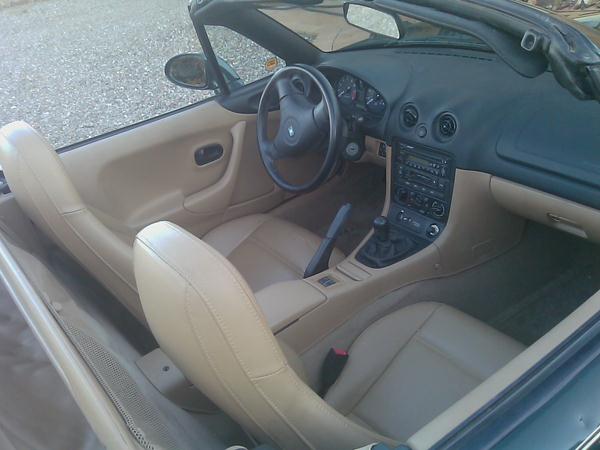 And here are the details:
1999 Mazda Miata MX-5
83,500 (approx.) miles, always garaged in New Mexico
British Racing Green with Aero Accent package, Tan Roof, Tan Leather Interior
Glass back window with defrost heater
AM/FM/Cassette/CD Player with Bose Sound System (really good bass notes)
Nardi leather wrapped steering wheel
Power locks, windows, mirrors
Cruise Control
Fog Lights
New Tires at 75,000
Full Tune-up (including plugs) and Oil Change at 80,000
And here is the price:
$5600
Add 3% if you want to use PayPal to cover the fees – but that means you could put it on your Visa or MasterCard and get the airline mile
Includes jumper-cables, sun shade and an insulated cooler the fits behind the seats in the roof well.
Here is a link to the Kelly Blue Book estimate of sales price.
Although cosmetically the car falls into the Very Good range (it will be detailed next week), it is priced $100 over Very Good since this is the real deal "little old ladies sports car" – though my mother isn't that little. My father is anal-retentive about keeping his cars in tip-top shape.
Might have one of my friends who is looking at upgrading his Miata to a newer vintage, but until he pulls the trigger, it's up for grabs. Plates expire at the end of the month, so time is short as I don't want to register it in my name.
A quiet dinner at home, well, not that quiet, Jill and Murphy The Wonder Dog were here for a lamb and slaw dinner – I seem to be on a lamb streak.
And now I have someone to send to the opera with Jeff since I can't use the seat since I'm working the late shift that night.
[? ? ?]