Almost broke four digits to the left of the decimal point today at the store – not bad for a Friday. I think with the weather changing, people are drinking more wine. Well, let's hope so.
Pretty busy day with all the deliveries, getting them checked, paying for them, finding or making shelf cards, pricing and stocking. One of our distributors since 6 bottles of the wrong juice by mistake – we ordered at $15 retail red, they shipped a $48 retail red – as Jim said, I like the mark-up!
Closed up at 7pm and planned to go next door for a couple of Manhattans and a nice dinner – just sit at the bar and relax…. Not a spare seat in the bar or anywhere else.
Guess I'm off to Grocery Outlet to see what doesn't look too close to the pull date.
Found a couple of bacon wrapped filets for $4.99 for the pair, and some slaw for $1.19. Something tells me I would have spent four times that amount at St. Clouds.
And the end result: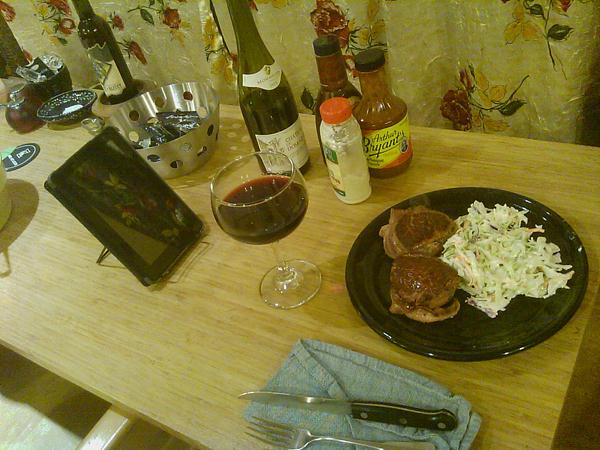 Such is the life of a lowly wine merchant.
[207.7]