A lazy morning around the house being all packed an all – left at 12:45 to run to the shop to drop off two loaves of bread (sent one home with Lucas last night), picked up a check, stuck it an envelope and popped it in the mail, then off to pick up SalamanderHellbender.
Poor Salamander. I moved him from 22C (aisle seat) to 6B – next to me in 6C, and then 4 hours before flight time they upgraded me and by the time I'd logged on, the aisle seat was gone. At least he gets to board early with me.
Dropped the car as MasterPark now that UwayjimayaPark no longer works.
Too long at the ticket counter – apparently when they upgrade you at the last moment, after you'd checked in, suddenly the system wants a flight coupon, not an e-ticket. I'd call that a bug.
They moved the PRE-screened line to Check Point 2, but I wouldn't be able to use it without abandoning Blair so we went the Check Point 1's First Class line… mistake, should have used Check Point 2's First Class line…. Slow, slow, slow. Lesson learned (and good for those not having special access as well).
Eventually through the line and into the Board Room – I think Blair might be ruined for travel without the speed lines, free drinks, free food.
At LAS (airport code for Las Vegas) it was off to the rental car center to see what the Thrifty "Wild Card" car was…. Mercury Marquis – a big white whale for a big white male in Vegas (and one skinnier one). So far so good.
Not so good at check-in as they demanded a $10 a night up-charge for two queens rather than one king (our Wyndham host will hear about that tomorrow) – though that is a funny concept, the two queens needing two queens.
Up to the room for a cocktail before heading out to try and find reasonably prices, reasonably quantitied food in Vegas. What am I thinking, this is Vegas. Hence, the nacho platter that we wisely decided to split:
For scale – that is a WATER GLASS to the left of the plate. SalamanderHellbender and I stuffed ourselves and still took home TWO take home boxes and left some on the plate. Yikes. And not really a good idea at 10pm at night but we were famished.
So, we are staying at the Paris Las Vegas, and I'm thinking it's starting to get a little "tatty", the paint on the balloon out front is starting to fade, I've got photos of minor upkeep issues in our room, though it does have a lovely view of the planes taking off.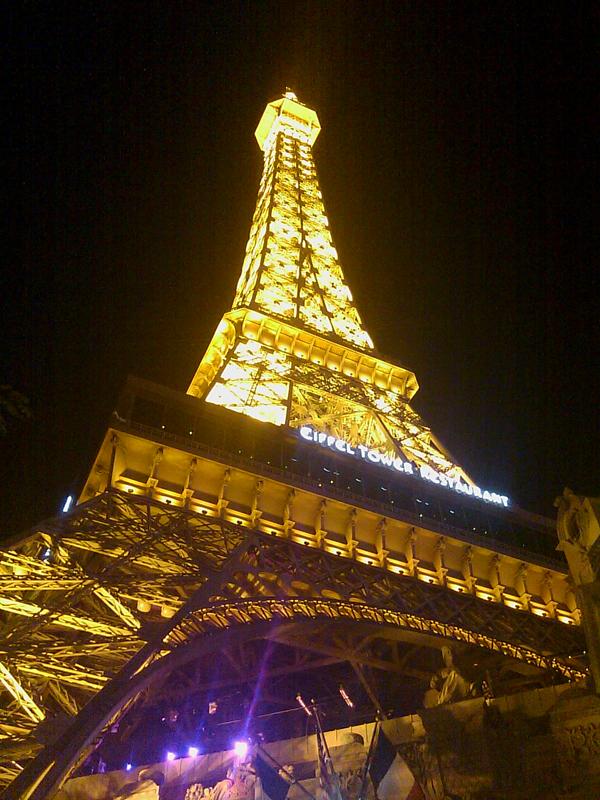 The faux Eiffel Tower – which apparently as part of the package we get to go up in. And SalamanderHellbender on the main Rue (street) inside the complex: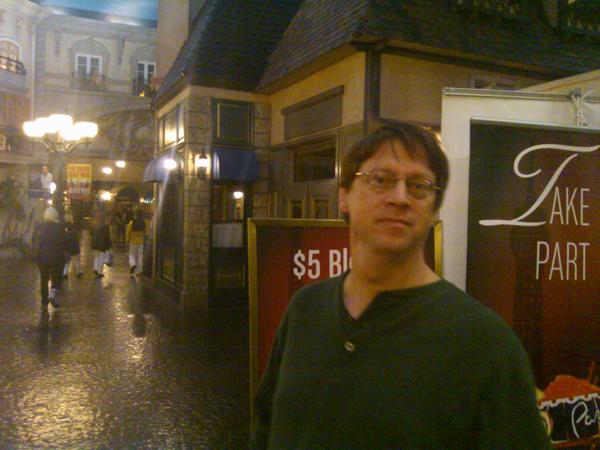 Yes, that's an inside shot – complete with faux blue cloud ceiling.
That's it for tonight. Back to the room for the news and David Letterman
[212.2] Which won't be helped by those nachos.