Last night when I got back from running errands I found a massive sugar ant colony marching across the kitchen floor, up the wall and into the ice machine. THOUSANDS of the buggers. Today I started to clean the beast on the back porch and realized that the ants had won, they had set up a colony in the lid of the machine that would be almost impossible to clean – that, and the icemaker had the following issues:
Ice full sensor – dead for months
Ice paddle to move the ice into the bucket – dead for months
And then there are the ants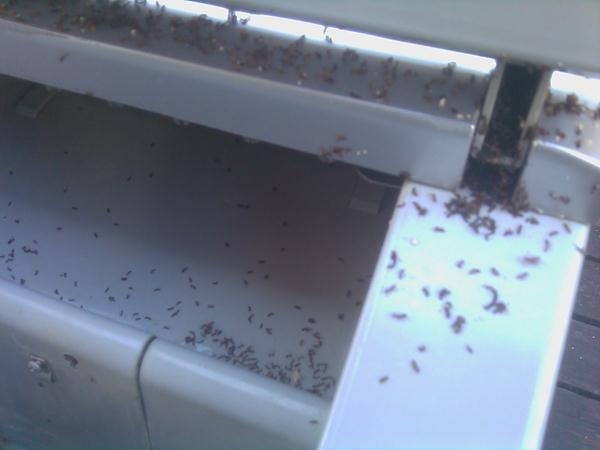 You all know how much ice I go through… time to order a new icemaker. Here is the new one coming from Amazon: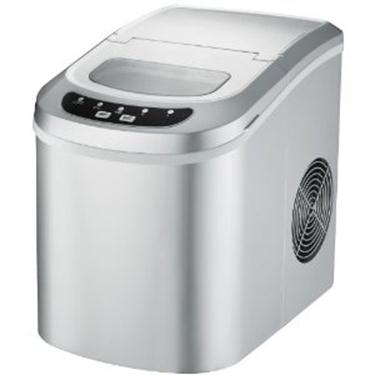 Click on the icemaker to order one for yourself – also comes in black, which was on back-order and I need it tomorrow ($3.99 extra for one-day shipping). Of course, what I forgot about a mileage run I have planned for tomorrow – I guess I would have remembered when I got the email to check-in, so we hope it comes before 3pm so I can sign for it before my 5pm flight.
And now for some not-so-good news about dying. Here is the latest report from my sis-in-law on my father:
Sorry to be the bearer of bad tidings, but I guess Arnie has had a few bad days, and his nurse was there today and switched him from OxyCodone to tablet morphine. If he has additional pain, he can take Oxy in addition. I was there about 2:15 and he was feeling fine, nodding a bit and in/out of the conversation, but still quite mentally with it – making appropriate liberal comments about the election, the growing gap between rich and poor in this country, etc. (i.e. saying things that make sense!)
However, he was talking about going to his eye doctor appointment next week, as his and Eileen's are scheduled back to back. Eileen had suggested that he skip this one, and I asked how often he goes (monthly?
every 3 months?). He said it's an every 6 month thing, and if he skips this one, he'll definitely need to go to the next one to make sure the "driving thing" is all straightened out. I told him that I really thought his driving days are probably over, but we can cross that bridge when we come to it for the next appointment. In point of fact, I don't think we'll have to cross it at all because I just don't think he'll be around to deal with it in 6 months. What optimism! (or denial?) As I pointed out to him, if both he and Eileen have appointments, it will take twice as long, which will tire both of them out, and if his nurse says he should only do 1 thing every other day, does he really want his excitement for 48 hours to be a trip to the eye doctor???? I think that made an impression.
Eileen said that maybe she should be following the "just 1 thing every other day" rule, too, and she was just exhausted. This all seems to take a big toll on her. I told her that I would put her eye appointment in my datebook, so if she wants to call me to stay with Arnie while she goes, I can bring over my lunch and do that. She said she didn't think that would be necessary, but I reminded her that it's a week away, and we can't really tell TODAY whether it will be necessary or not. I think she got that.
Reha called them yesterday to spring his "surprise" Thanksgiving visit with Benton, as I called him earlier this week and told him this isn't a good time for surprises. Reha called me several months ago when things looked much better, so I needed to update him and make sure he let them know he was coming, especially as it looks like we'll be eating at El Castillo (for which Eileen will need to make reservations), not at my house. I think Eileen was afraid I'd be disappointed about not cooking or being at my house, but I'm all about making this easy on everyone – I'll have lots of years ahead to cook turkeys. She said she'd need to send an email to Reha apologizing for "being short with him"' and reminded me how much she HATES to talk on the phone, and she'd been too tired and overwhelmed when he called, etc. I'll try to do some damage control with Reha this weekend. Why they won't ask for more help is beyond me….. Reha has a hotel lined up and is always good about entertaining himself, so I don't think that will be a big issue – he's only here Wed afternoon – Saturday and will have his own rental car.
Maybe he and Benton can take Eileen out for a meal, and I'll hang out with Arnie. She really enjoyed being out for birthday lunch at the Santacafe – cost me a fortune, but she had such a good time (glass of champagne, creme brulee, said she was really glad I talked her into going).
Arnie said he'd been having some trouble getting up from the couch, because it's so low, and Eileen has to help him sometimes. I wish I'd thought to suggest that maybe now is the time for the hospital bed option. (I might make that suggestion in a day or two.) He doesn't have to wait until he's bed-ridden – it could help him get upright and out of bed when he wants, or just he could raise it which sounds like it would help. He probably doesn't want to take that step yet, but it might not be a bad idea.
Both Kennan and I think the morphine step is a bit ominous. I absolutely don't want him in any pain if it can be avoided, and I'm glad he's talking to his nurse and asking for more pain medication. I don't like to think about how he must have felt yesterday and today to bring him to taking this step, though. He looked ok, and his mind was engaged in our discussion, for the most part, but I can't think this is a good sign. I'm not asking him about eating – he'll do what he can, and if he doesn't want to build up his strength at this point, I think that's understandable.
I will probably go over there at some point this weekend, and will let you know how he's doing then. I'm going to bed really early tonight (like 8:30), as morning swim practice started today! So, I was up at 5 and swam a lot! Other than this evening, call me if you have questions.
Well, that sucks. All loving-healing thoughts gratefully accepted.
[213.7]