Well, the new ice machine arrived a little before two – which was good because the latest I could leave for the airport was 3 for my 5:05pm flight time. I'll get it up and running when I return from this mileage run. This will be the last 1000 miles that I need to make MVP Gold on Alaska this year. The fact I got this flight for under a hundred dollars is pretty amazing. I still have more miles to fly this year, like next week's mileage run to Hawaii, and Hawaii for most of a week in December – just need to make sure they all get credited.
Here is my plane (on the right) caught in the glow of sunset at Sea-Tac: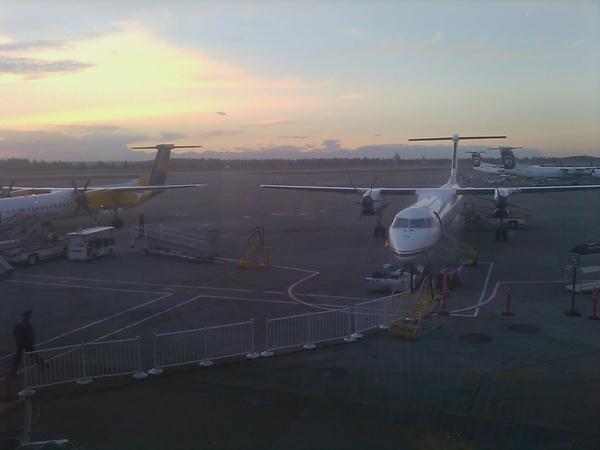 Alaska has grown so much at Sea-Tac that they now have a couple of gates on B concourse (as well as C, D, and N).
Got to go through the PRE line — love keeping on shoes, jackets, no toiletries or laptop this time, but those get to stay as well. Combined with hourly parking at the airport proper — extra time for lunch in the Board Room and a few pre-flight cocktails.
No time in the air for anything other than water (no free wine, no time), and I had to deplane on the other end since they were swapping out crew. Another line to wait in.
Was home by 7:30 – managed to get out of the garage in under 5 hours ($15.00).
A nice little steak and spinach dinner followed.
[213.5]